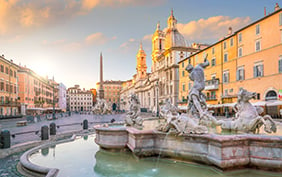 Check into your hotel and start your tour at the Roman Forum. In the middle of this thriving metropolis are the ruins of Rome's ancient government buildings, monuments and temples. Visit the Temple of Saturn, once Rome's treasury, the Senate House where political events were held, and the Arch of Titus.

The Colosseum is nearby, where Romans came to watch sports, gladiatorial games and other entertainment in the 55,000 capacity amphitheatre. Next door is the triumphal Arch of Constantine, a monument of Imperial Rome.

Once you've had your fill of sightseeing, there are plenty of places close by where you can refuel with authentic pizza and pasta, or try some delicious Fiori di Zucca (fried zucchini flowers).