Swimming pool with wonderful views of Florence and Tuscan countryside
Located only 14 miles from Florence in the small hamlet of Artimino
Only 14 miles west of Florence, Artimino is a tiny unspoilt hamlet that possesses a timeless quality. During the 16th century the Medici family built a country villa in this rich wine-producing area and the Tenuta di Artimino, now a fine hotel, was originally the page-boys' quarters. The Tenuta di Artimino hotel is a listed building that has retained many original features after its conversion and has been finished with traditional and luxurious décor.

From the spacious lawned gardens and swimming pool (normally in use May to October), wonderful views of Florence and the surrounding countryside can be enjoyed, while the well-known restaurant, located in a separate building in the grounds, is popular with locals and guests alike. For the more active, tennis courts are available and mountain bikes are provided free of charge.
The hotel has 37 rooms (official rating 4 star). Child prices apply to ages 2-12 years.
Facilities
Bars & Restaurants
Biagio Pignatta Restaurant, Breakfast Room & Bar
Biagio Pignatta Restaurant Included With:Half Board
Open 7.30am - 10.30am, 12.30pm - 2pm and 7.30pm - 10pm
Named after Ferdinando de' Medici's first butler, the Biagio Pignatta Restaurant offers high class Tuscan hospitality with classical dishes prepared with ingredients taken directly from the Artimino farm. The restaurant is set over two levels with a panoramic terrace and has a separate gazebo for small events.
Breakfast room and bar is available, open 10.30 am - midnight.


Cooking Classes
Guests can learn how to cook traditional Tuscan dishes with lessons in the Biagio Pignatta Restaurant.
Beach & Pools
Swimming Pool
Normally in use May - October.
Activities & Entertainment
Wifi & Parking
Wifi & Parking
Stay connected with the wifi free of charge.
Free on-site parking.
About the location
Clustered on a small hilltop, Artimino is a charming medieval walled village less than 15 miles from Florence.

The village has Etruscan roots dating as far back as the 4th century BC, and was once an important location thanks to its prime setting and commanding views. Most of the settlement now dates from the 17th and 18th centuries and is remarkably well preserved, offering a glimpse into what life was once like.

Today, the village offers guests a handful of attractions, including the Municipal Archaeological Museum, which showcases important finds within the local area, plus a smattering of restaurants serving flavourful Tuscan fare. The nearby Villa La Fernandino is the village's main attraction and is one of Tuscany's finest Ducal homes. Completed in 1600, it was built in traditional Medici style reminiscent of the palazzos of Florence, and is adorned with glorious frescoes.

The city of Florence can be reached in around 40 minutes. Packed with some of Italy's most recognisable attractions and sights, we highly recommend spending a day here.
Transfer time
Car hire is recommended for this hotel. Artimino is 14 miles from Florence and 45 miles from Pisa. Simply call us once you've completed your booking and we will talk you through the options.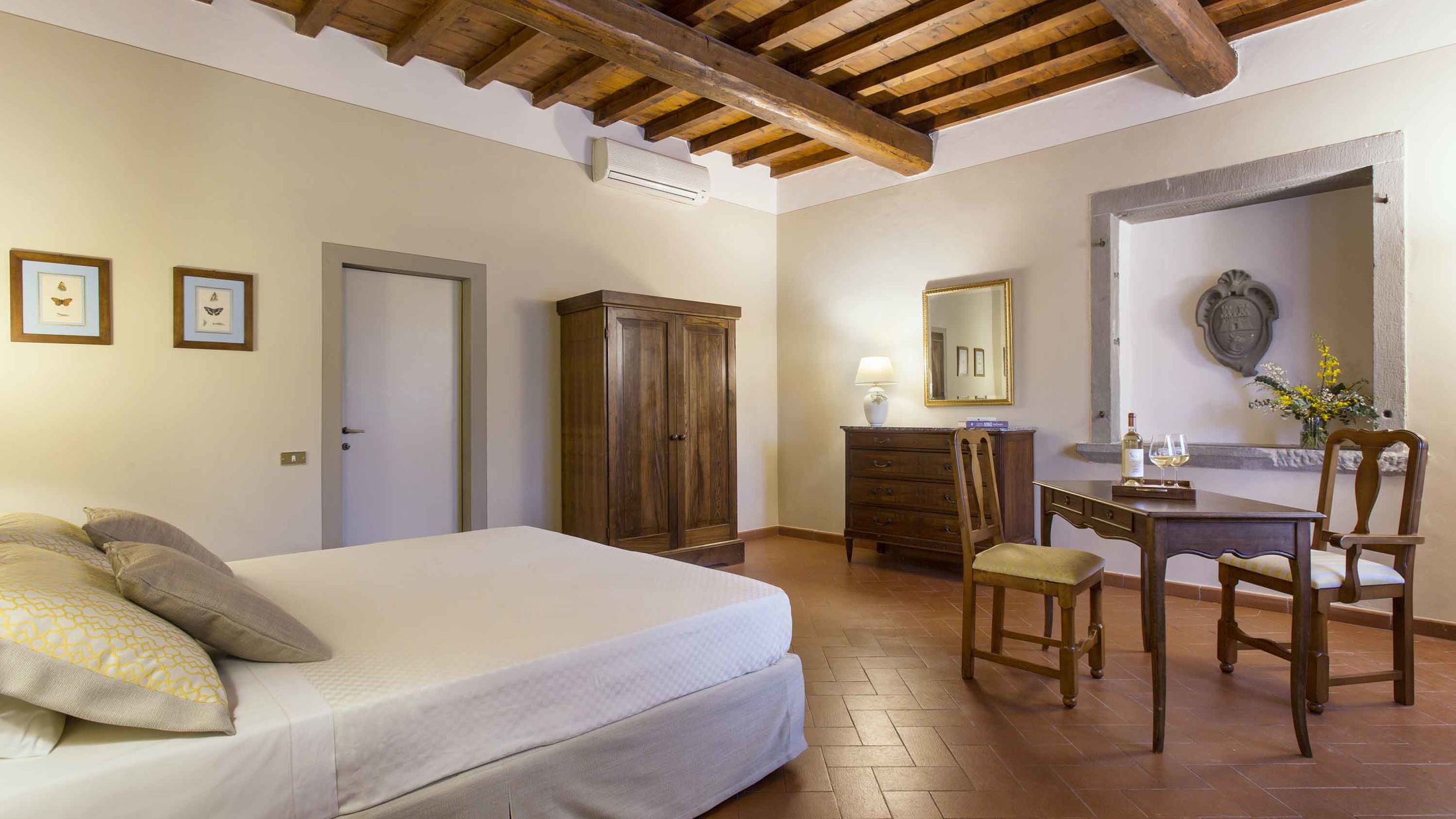 Classic Room
Max 2 Adults
Classic Rooms are all individual and full of Tuscan charm. They all feature traditional terracotta flooring and some have wooden ceilings and stone fireplaces. They feature a double bed or twin beds.
Approximately 24m²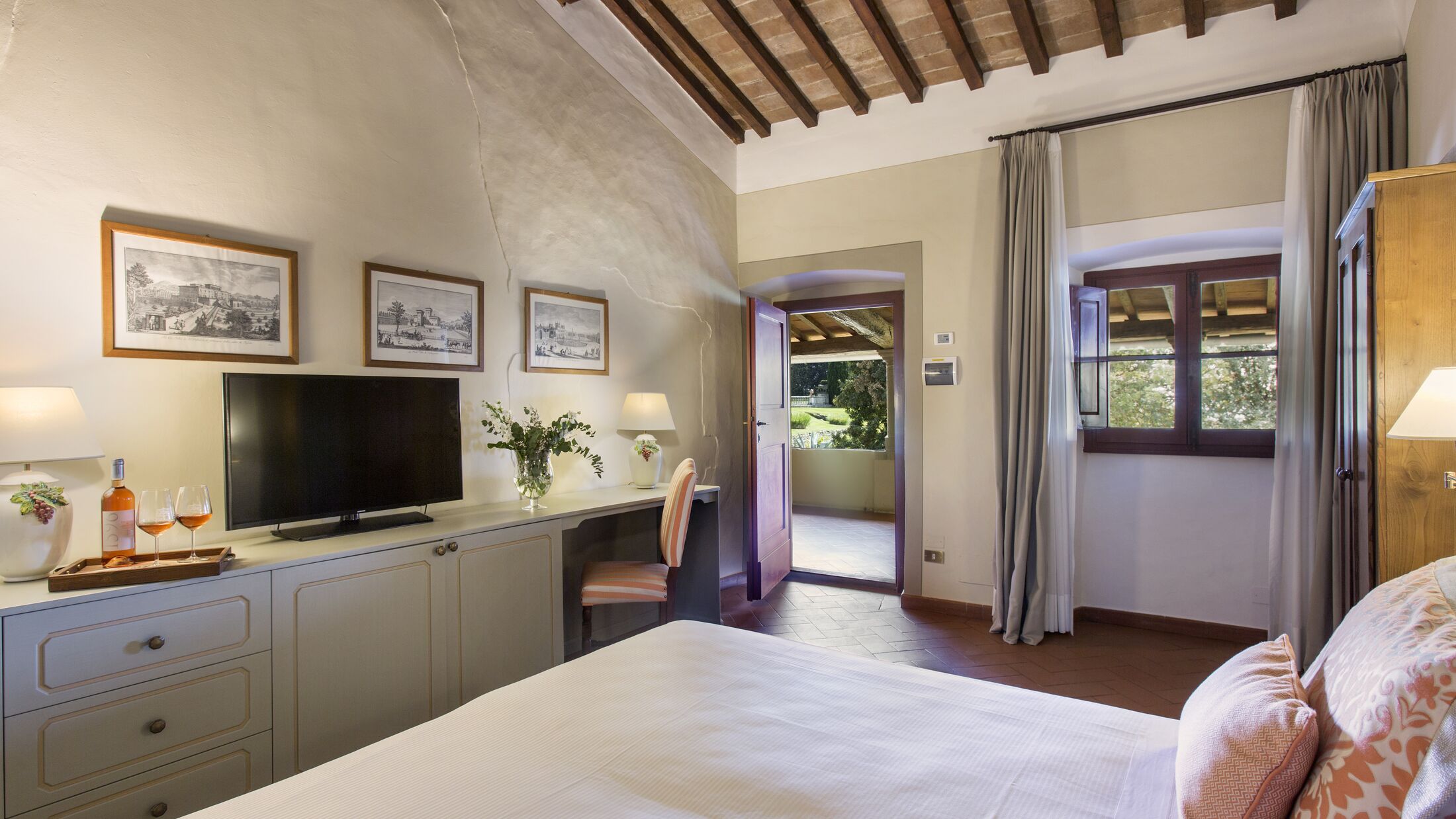 Superior Room
Max 3 Adults
The Superior rooms offer larger accommodations. Decorated in shades of pink with wooden beams on the ceiling, terracotta floors and fine tapestries. They have a door and window facing the outside, overlooking the countryside. All with private bathroom, some have a whirlpool bath.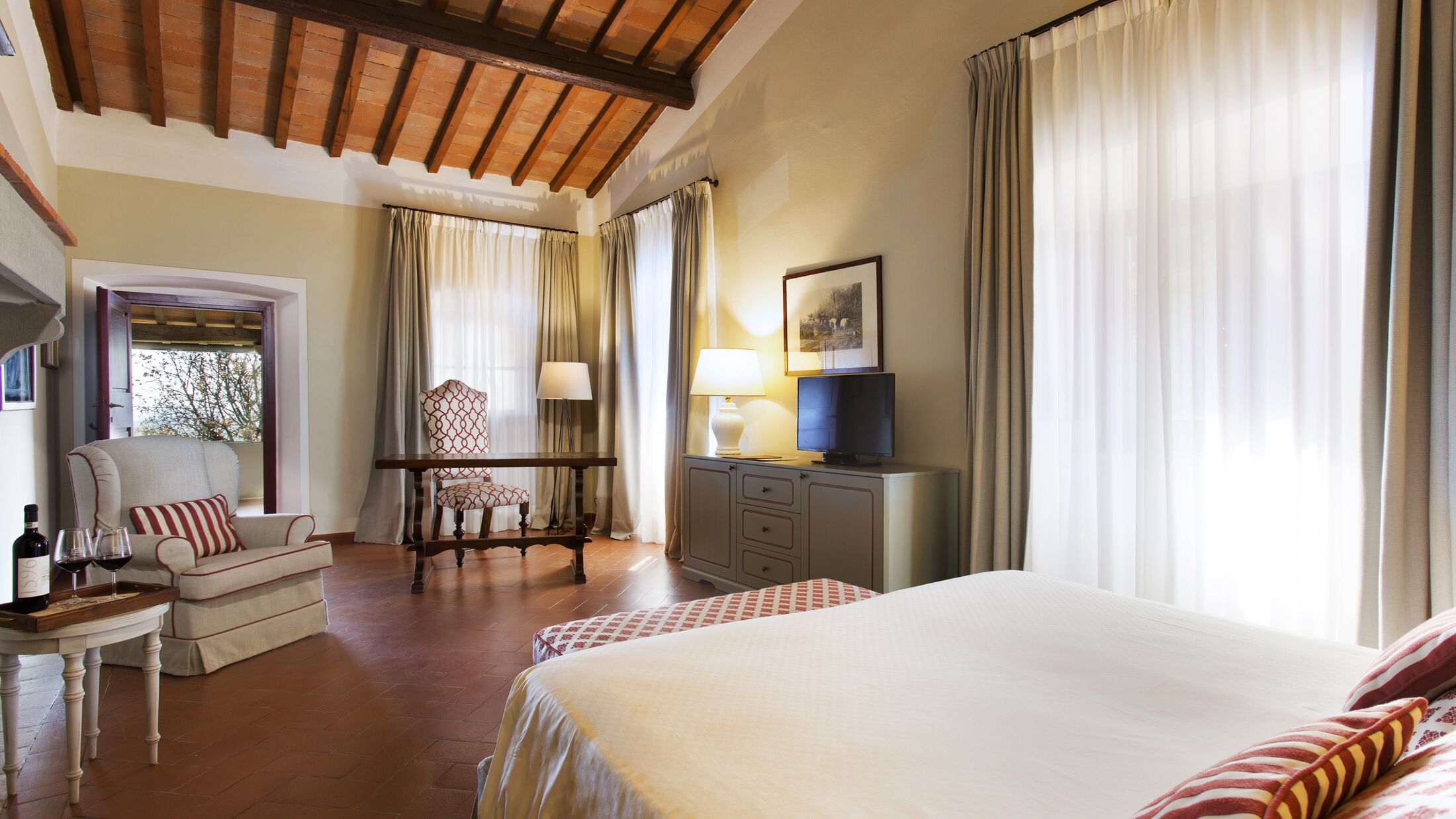 Executive Room
Max 3 Adults
The charming Executive rooms are large and bright, decorated with fabrics and details in deep and intense burgundy red. They boast spacious bathrooms and some feature a delightful French-style bathtub.

Based on 606 traveller reviews

89% of travellers recommended this hotel
Travellers Ratings
What to expect
Reviews
kimbocianskisvendsen, Kongens Lyngby, Denmark
Jul 23 2021
Very authentic Italian stay with amazing (main) pool area. Important to note that the estate is located on two hillsides, one with the main pool area and best restaurant and one with appartments...
Very authentic Italian stay with amazing (main) pool area. Important to note that the estate is located on two hillsides, one with the main pool area and best restaurant and one with appartments. However, when consuming alcohol, one can easily walk home😉 the area is amazing, the food great, the prices reasonable and the staff very much local🥰 only thing keeping me holding back the last star is because the pictures online showed wooden (high) ceiling only but ours did not have that. We will come back
View full review
ajpouw,
Jul 23 2021
What a warm welcome in this beautiful spa. We went to the spa for a treatment (pedicure), the lady was so kind and helpful. Everything was really good, we felt at home in this relaxing...
What a warm welcome in this beautiful spa. We went to the spa for a treatment (pedicure), the lady was so kind and helpful. Everything was really good, we felt at home in this relaxing atmosphere. Thank you Giada for your kindness and hospitality🙏🏼
View full review