Set in a central location in Venice, close to Rio Fuseri Canal
Arrive by boat and use the hotel's private water entrance
Relax on the terrace and enjoy the finest Venetian dishes
A five minute walk from St Mark's Square
Hotel Bonvecchiati is situated in the centre of Venice. Boasting over 200 years of history, the hotel has plenty of character and offers elegant and classical surroundings. Cosy rooms, a beautiful terrace restaurant and striking décor can be found throughout.

For adventurers looking to make the most of their time in Venice, the hotel is in a prime position. Start your day with croissants and coffee before heading out to explore the city. The city's archaeological museum is just six minutes' walk away, while the famous Rialto Bridge is five minutes to the east. You'll find the temptation of a chocolate shop or two within easy reach as well.
The hotel has 112 rooms (official rating 4 star). Child prices apply to ages 2-11 years.

2 Nights minimum stay for arrivals on a Fri and Sat .


Facilities
Bars & Restaurants
Terrace
Enjoy an al fresco meal on the terrace of Hotel Bonvecchiati. This stunning terrace sits on the edge of one of Venice's many canals, providing wonderful views and a comfortable position in the heart of Venice.
Lounge Bar
A relaxing bar area where you can enjoy an aperitif or a long drink to wind down after a day's exploring. Newspapers from various countries are also provided.
Restaurant Terrazza
Included With:Bed & Breakfast
From its comprehensive buffet breakfast to the finest local and Italian cuisine throughout the day and evening, the restaurant provides numerous fresh delights cooked to your liking.
Activities & Entertainment
Private Water Entrance
Hotel Bonvecchiati is situated on the edge of a canal, offering its own water entrance for use by guests. It provides the perfect way to arrive at the hotel.
Wifi
Free Wifi
Stay connected with the wifi free of charge.
About the location
Holidays to Venice have an unforgettable appeal. With beautiful historic buildings, traditional gondolas to transport you around the waterways and a romantic ambience to warm every heart, this really is a special place. Couples will love being punted down the waterways while being serenaded by the gondolier before alighting to enjoy a romantic meal for two in one of Venice's traditional restaurants. But it's not only couples who are drawn by its charm; the city's historic buildings and splendid architecture are perfect for those looking to experience history and culture. Food lovers will enjoy exploring the streets and seeking out the most beautiful authentic trattoria serving up delicious delicacies.
Transfer time
The hotel is 40 minutes from Marco Polo airport. Return private transfers included. To change your transfers or book car hire instead, simply call us once you've completed your booking.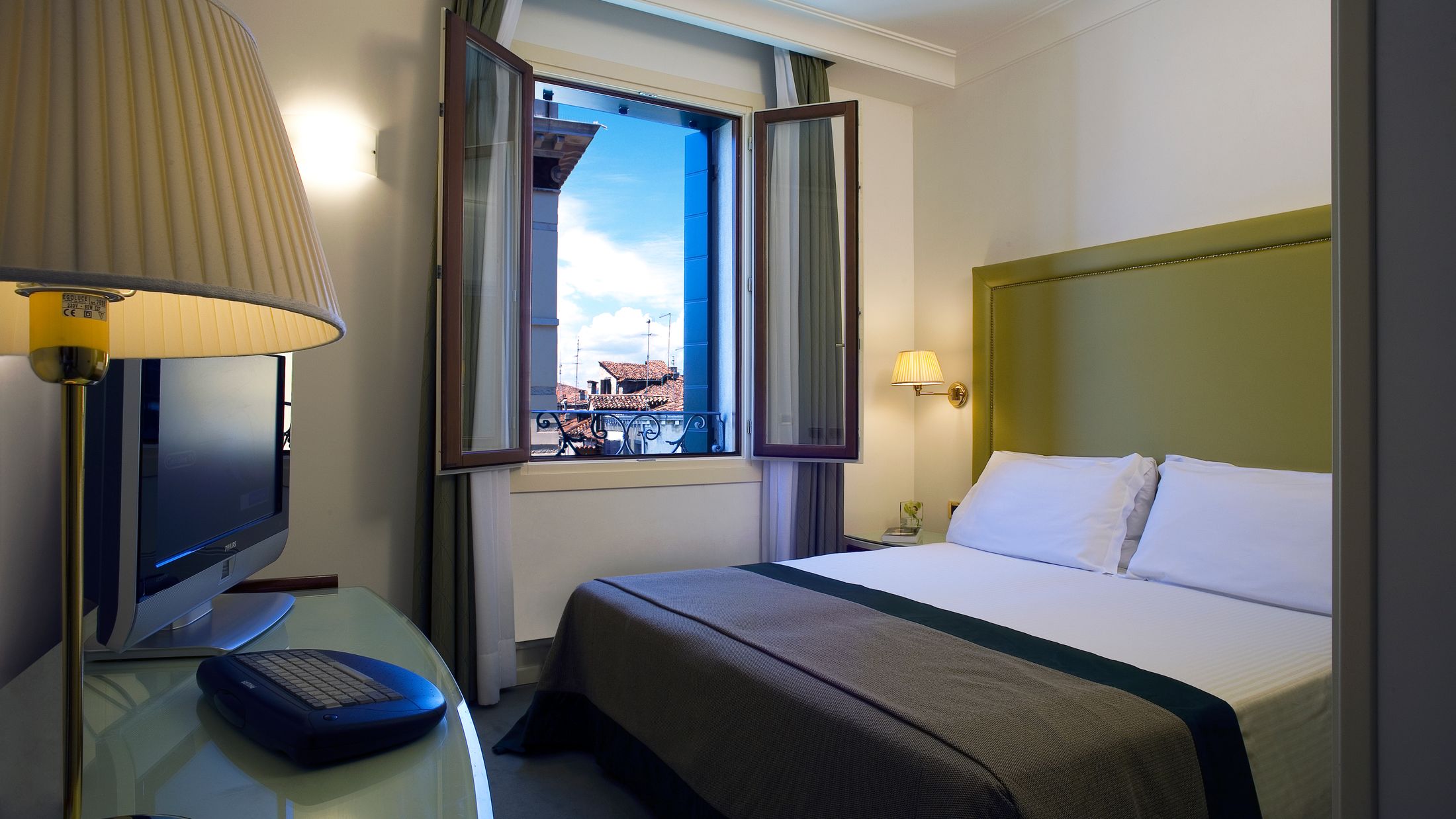 Superior Twin Room
Max 3 adults
This comfortable room offers views over the streets of Venice. Twin single beds are provided, with an option to change to a double if required. The private bathroom has a shower or bath, dressing gown and slippers.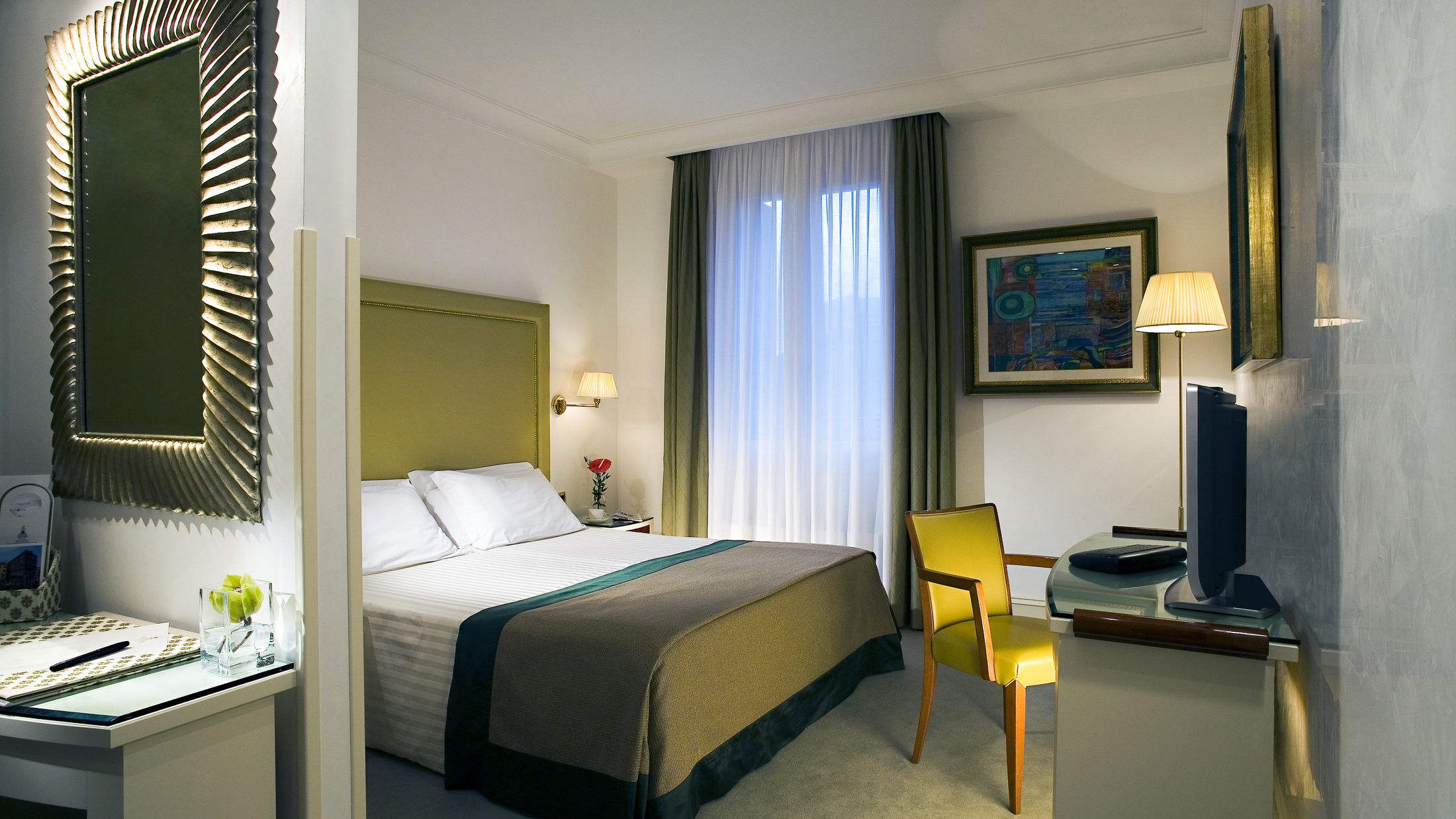 Deluxe Canal View Room
Max 3 adults
Look out over the canal from this deluxe and stylish room. Offering twin beds (double beds are available if requested), the room enjoys beautiful décor throughout. The en suite contains either a bath or shower, as well as dressing gowns and slippers.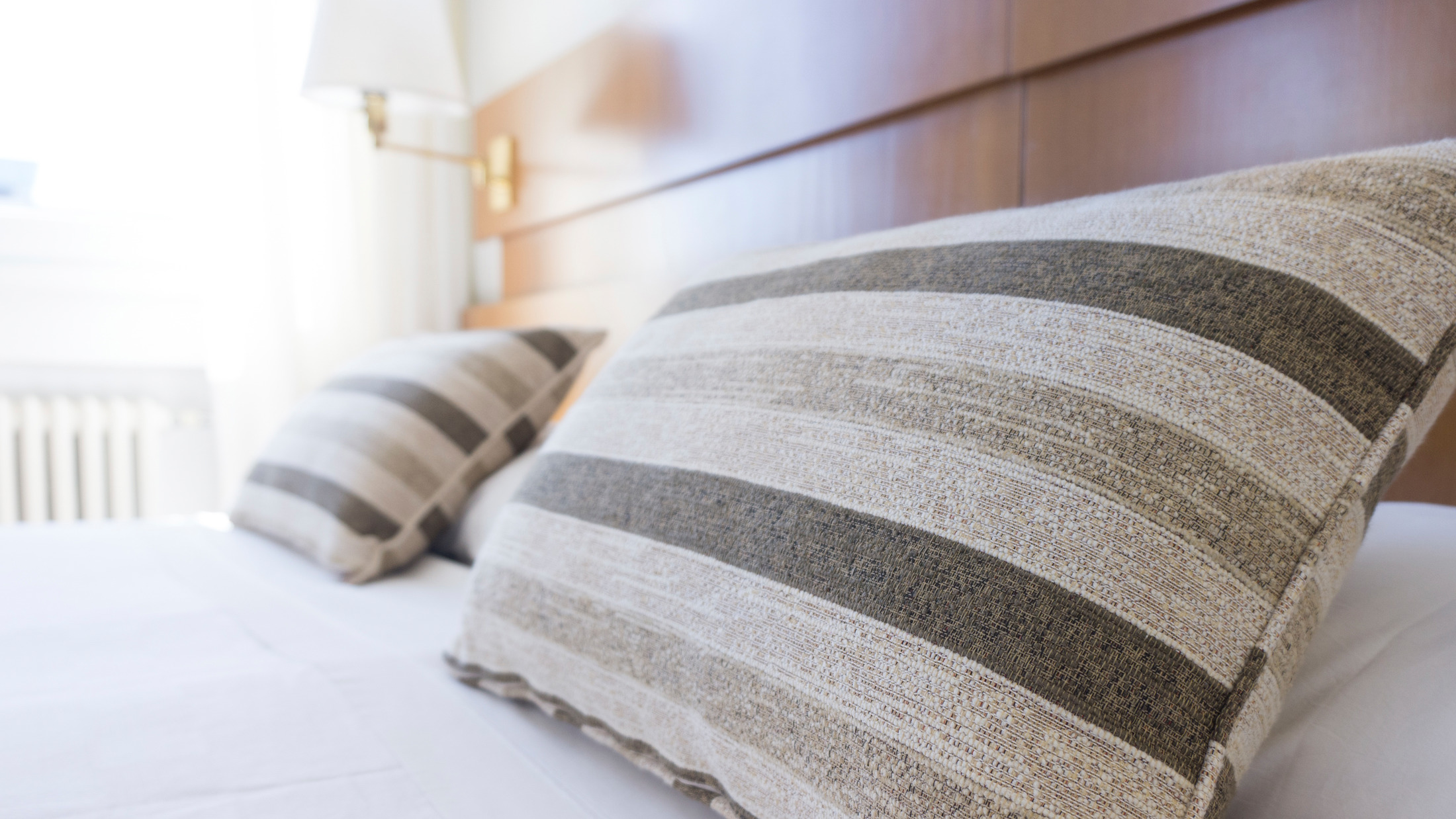 TRIPLE STANDARD
This room is not available to book online.
But give us a call and one of our travel centre experts may be able to get a quote for you. Call to book 01293 762410 *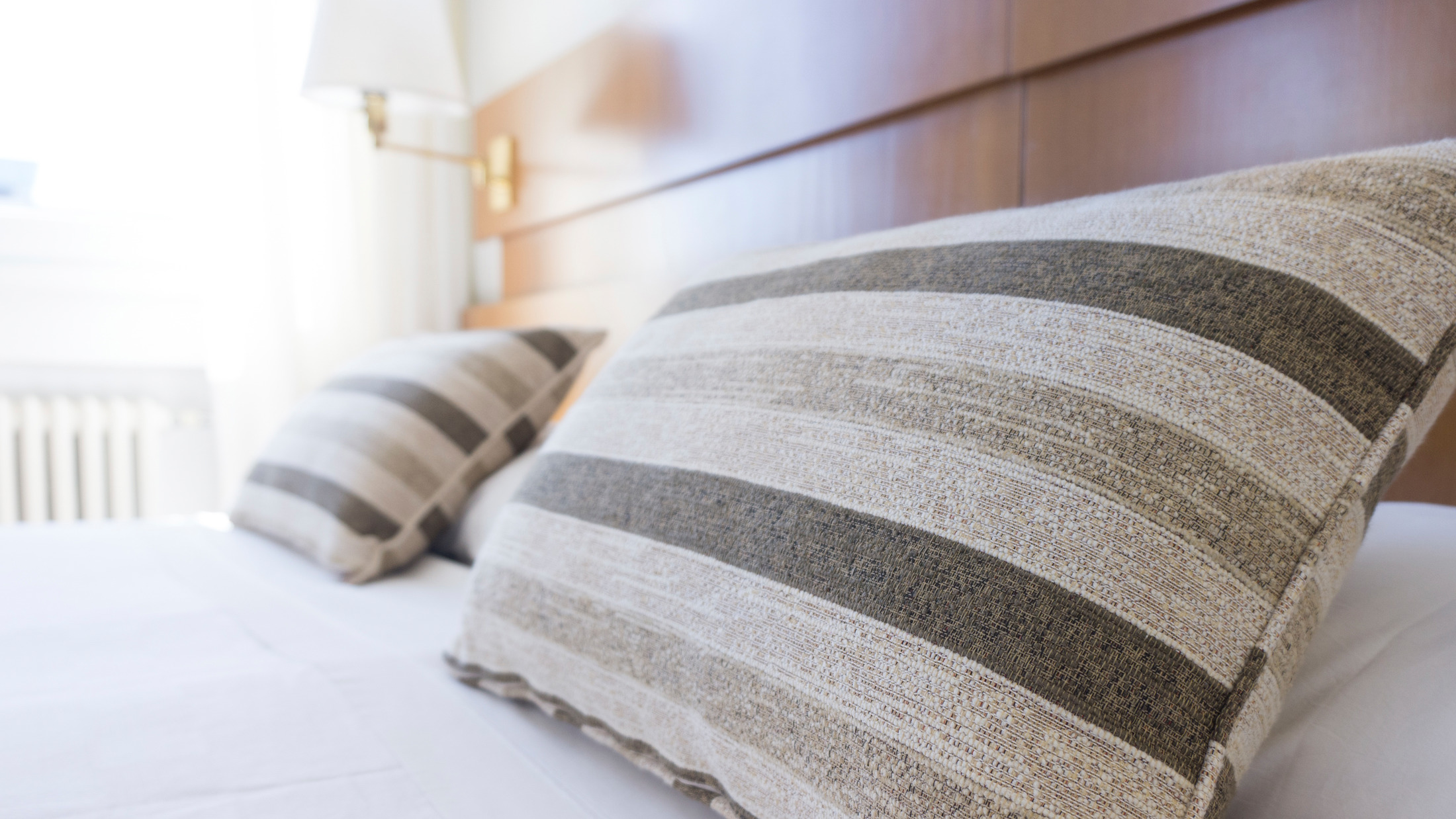 Junior Suite
Max 2 adults, 1 child, 1 cot
Furnished to an impressive finish, the suite provides a relaxing double bedroom with beautiful soft furnishings. A separate seating area is also provided which includes the use of a double sofa bed. The en suite bathroom contains either a bath or shower, as well as dressing gowns and slippers.
Early Booking Discount
10% Early booking discount for stays of 1 - 3 nights completed between 5th July - 27th August 2020, 28th August - 31st October 2020 and selected dates throughout 2021 - booked at least 30 days prior to departure.
Free Night Offer
1 Free night for stays of 4 nights completed between 03 January - 11 February 2021, 17 February - 01 April 2021, 05 - 22 April 2021 and 04 July - 02 September 2021.

Based on 1795 traveller reviews

72% of travellers recommended this hotel
Travellers Ratings
What to expect
Reviews
Sherlockian1959, Leeds, United Kingdom
Jul 02 2020
My partner and I recently stayed here for two nights. Well located in the amazing city of Venice, the hotel itself wasn't what we expected. We were put into an annex building, and told it was an...
My partner and I recently stayed here for two nights. Well located in the amazing city of Venice, the hotel itself wasn't what we expected. We were put into an annex building, and told it was an upgrade, highly doubtful, the room itself was small though the bathroom was much better. The city of Venice itself is amazing, thoroughly enjoyed our visit, though the hotel was little better than basic. Would definitely not go back as value for money it wasn't.
View full review
"
Good location is not enough...
Yaron S, Kfar Saba, Israel
Feb 21 2020
We stayed at the hotel for 3 nights. Two couples in two rooms on the fourth floor. We wanted good hotel in the hart of Venice to stay during the carnival. The hotel location is excellent, no doubt...
We stayed at the hotel for 3 nights. Two couples in two rooms on the fourth floor. We wanted good hotel in the hart of Venice to stay during the carnival. The hotel location is excellent, no doubt on that. Our room was very small, in a way that one suitcase was close to the bed that did not live enough space to walk or to open the room door. The other trolly was inside the closet. I could not unpack it since there ware no drawers so I had to take it out avery time I needed something. The bathroom was very small with no place to put things close to the mirror. The bath was the worse part: The showerhead didn't had a mounting bracket (see picture). So to we had to improvise. Our friends from the room next door complained not able to turn the TV on. I must say that we did not mentioned this to the hotel manager since we stayed a very short stay. The pictures in the web did not gave any clue on the small size of room
View full review