Located close to the cable car for links to Taormina
Situated in the picturesque bay of Mazzarò with its own private beach
Superbly situated in the picturesque bay of Mazzarò, close to the cable car service up to Taormina, the Mazzarò Sea Palace provides a high standard of accommodation in a stunning setting. The beautiful Bay of Mazzarò can be admired from many corners of the hotel, including the restaurant terrace where you can dine during high season and enjoy traditional Sicilian dishes whilst taking in the views.

Guest rooms have been recently renovated and offer plenty of space with modern conveniences to ensure a comfortable stay. Each room enjoys sea views from generously proportioned furnished balconies. The beautiful saltwater swimming pool (normally in use April - October) provides a perfect place to spend a relaxing day or guests can use the hotel's private beach (charges are included for guests, normally in use May - October).
The hotel has 82 rooms (official rating 5 star). Child prices apply to ages 3-12 years.
Facilities
Bars & Restaurants
Il Gattopardo Restaurant
Opening Times: Open: 1pm - 3pm and 7:30pm - 10.30pm.
Dress Code: Gentlemen are required to wear long trousers during the evening.

The hotel's restaurant serves typical Sicilian cuisine a' la carte in a stunning setting by the bay of Mazzarò. Choose to dine inside or on the large terrace in the summer months.

Bar Tancredi
Bar Tancredi is the perfect place to enjoy an aperitivo either indoors or on the spacious terrace. Open 9am - 1am.
Beach & Pools
Swimming Pool
The hotel's pool is normally in use from April to October.

Open 9am - 7pm
Beach
The beach is free of charge for guests' use and is normally open from May to October.
Spa & Wellness
Fitness Room
The fitness room is available free of charge and is open 24 hours.
Wifi & Parking
Wifi & Parking
Wifi is free of charge in all rooms and common areas up to 3mb/s and payable locally (approx. €5 per device per day) for up to 10mb/s.
Parking is available on request and payable locally (approx. €27 per day).
About the location
Holidays in Taormina marry history and culture to form an unforgettable experience in Italy. It's perched at the top of Monte Tauro in the foothills of Mount Etna on Sicily's Eastern coastline, between the cities of Catania and Messina. This ancient town offers visitors a view into the past with a number of elegantly preserved historic treasures, from the grand Greek-Roman Theatre to the equally impressive Palazzo Corvaja, which are just waiting to be discovered.

You don't have to be a history buff to make the most of everything Taormina has to offer. Alongside the historical sights there are plenty of other attractions to take in. The main street, Corso Umberto, is traffic free and home to an array of shops and restaurants to rival any in the bigger cities.

There are also plenty of seaside activities to dive into thanks to the town's coastal setting. Adventurous travellers can try watersports like wind surfing and snorkelling, while relaxing scenic boat tours around the gorgeous capes and grottos of the Ionian Sea allow you to explore at your own pace. Alternatively, simply spend long tranquil days on sun soaked shingle beaches.

Transfer time
The hotel is 1 hour from Catania airport. Return private transfers included. To change your transfers or book car hire instead, simply call us once you've completed your booking.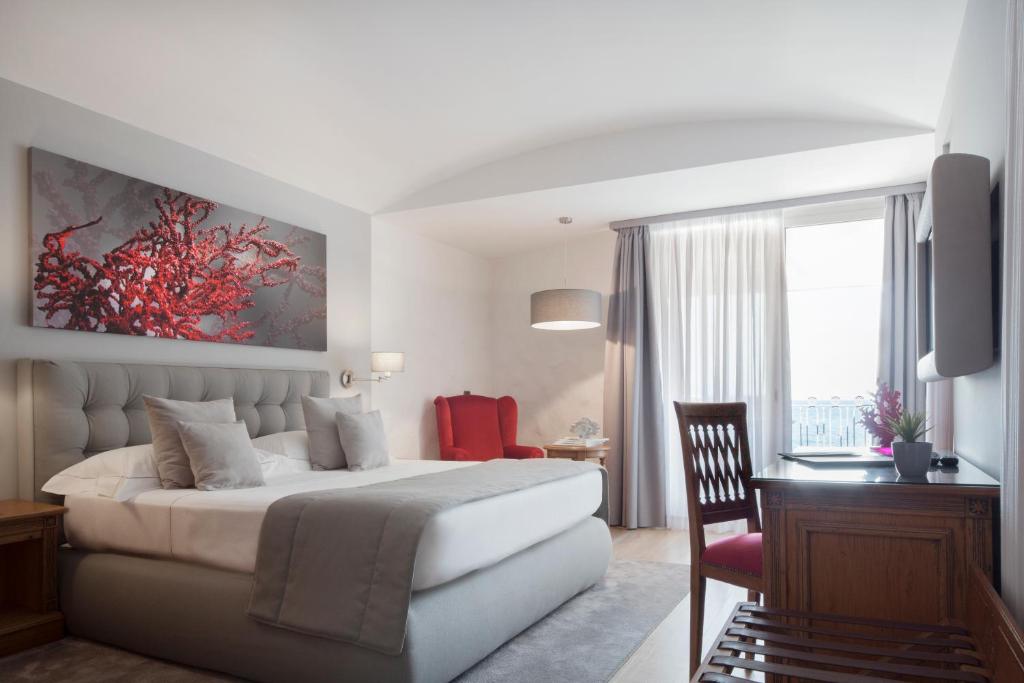 Superior Sea View Room Balcony
Max 3 adults
Offering a private balcony or a terrace Superior rooms allow you to relax and enjoy the breath-taking sea views. Equipped with modern facilities and featuring a luxurious bathroom with marble finish they provide plenty of comfort.
20m²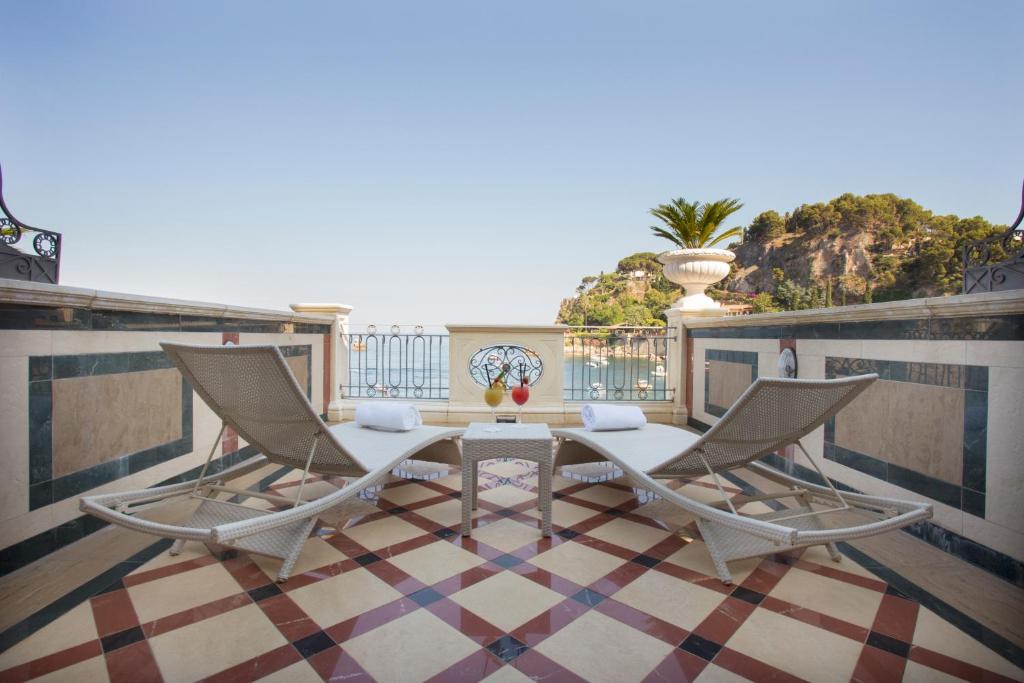 Deluxe Sea View Room Private Terrace
Max 2 adults, 1 child
All of the Deluxe rooms are equipped with a large private terrace overlooking the Baia di Mazzarò with wardrobe, tables, chairs and comfortable chaise
longues. All rooms have a luxurious bathroom with marble washbasin.

24m²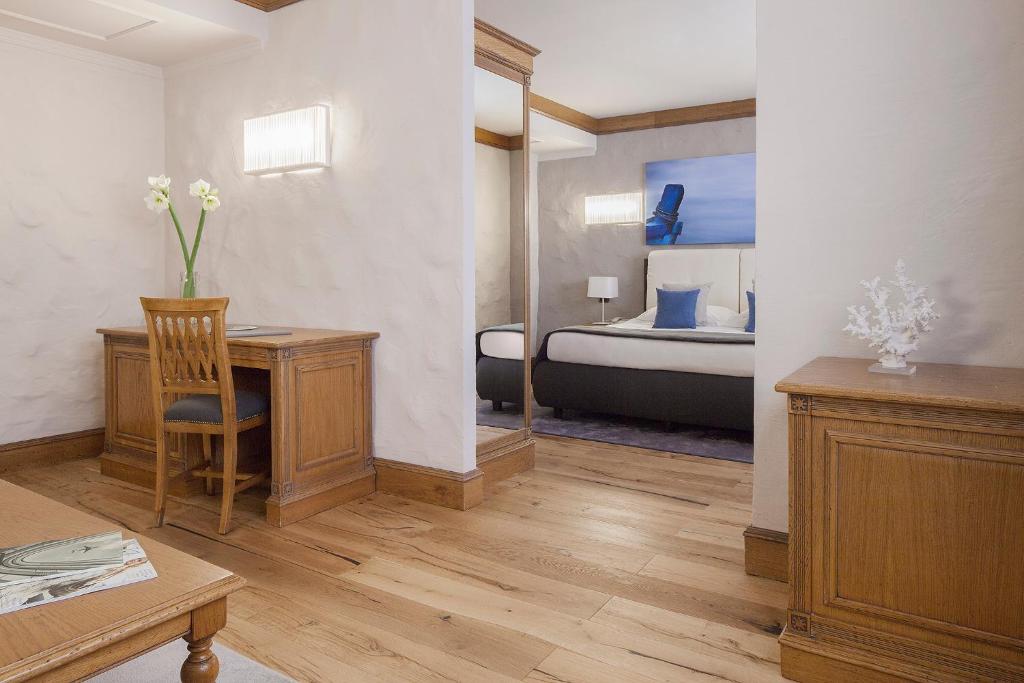 Junior Suite Front Sea View Balcony or Terrace
Max 3 adults
Junior Suites offer lots of space and have a seating area and front sea views from the balcony or terrace.
30m²
Suite Front Sea View Terrace
2 adults + 2 chd or 3 adults +1 chd
Suites have a separate living area and a private terrace with outdoor furniture and views of the bay. They are available on request, please call to book.
40m²
Suite Terrace Mini Pool
2 adults + 2 chd or 3 adults +1 chd
The Suites with mini pool also have a separate living area that provides more privacy. The private terrace offers a small swimming pool with Jacuzzi for a relaxing experience.
42m²
Early Booking Discount
15% Early booking discount for stays completed between 15 April - 22 July 2022 and 11 September - 12 November 2022 booked by 31 March 2022.

Based on 861 traveller reviews

78% of travellers recommended this hotel
Travellers Ratings
What to expect
Reviews
Stonepink, Playa del Carmen, Mexico
Oct 25 2021
Beautiful location and setting. We loved our room and balcony. The staff is awkward however and force their friendliness for gratuities compared to other parts of Italy. I have never seen such an...
Beautiful location and setting. We loved our room and balcony. The staff is awkward however and force their friendliness for gratuities compared to other parts of Italy. I have never seen such an expectation for tip in all of Europe. The Dining Room is like a cruise ship cafeteria, dated and bright. The complimentary dinner is not worth the offer. We ended up purchasing dinner at the hotel rather than accept the included dinner and unfortunately comprised one night of meals with inferior food. QR code menu has extreme price discrepancies with the tablet menu especially with wine. Hopefully they correct that soon. The buffet breakfast is odd with staff insisting to serve you with everything including water. At St. Regis Rome, they are not stalking you and dishing your buffet items. Overall, the area is amazing and worthy of a repeat visit just not to this hotel in my opinion.
View full review
graceline2016, Zollikon, Switzerland
Oct 24 2021
Wonderful location, unforgettable memories, very nice suite with the large terrace at the gorgeous sea, the magnificent Mazzar?? Lagune, the cosy hotel beach. Nice breakfast at the beautiful terrace...
Wonderful location, unforgettable memories, very nice suite with the large terrace at the gorgeous sea, the magnificent Mazzar?? Lagune, the cosy hotel beach. Nice breakfast at the beautiful terrace with olive trees at the sea. Caring and attentive Reception Team, Special thanks to Roberta for her nice assistance during the stay. Giovanni and the beach team were very attentive, they had to work very hard, moving the massive heavy sun sofa beds on the sand to create the shade for the guests. The reasonable solution for the beach personal and for the guests would be to replace rather unpractical sun beds against the flexible and light ones. Swimming in the sea was beautiful! Service was charming. Wonderful holiday place in Taormina. Old town above the hotel, as well as the private trip to Etna ( only 2 hours drive by car and cable car from summer into winter) were stunning experiences. With compliments! Family Mueller
View full review