Charming hotel in Sirmione, just a five-minute lakeside walk from the centre
Peaceful location with a lovely swimming pool and terrace
A favourite with Citalia guests for its welcoming family atmosphere, the charming Hotel Olivi Thermae & Natural Spa is set in a quiet, secluded area with beautiful views over Lake Garda. With a very good standard of service and elegantly furnished guest rooms, the Hotel Olivi is situated near to the Grottoes of Catullus, and the centre of Sirmione is only a five-minute walk away.

Start each day with breakfast on the pretty terrace before making your way to the swimming pool, set amidst olive trees, where sunbeds and towels are provided. Throughout the summer a snack service is available outside, and during the evening La Limonaia Restaurant is the ideal romantic setting for dining al fresco by candlelight.

Guests can pay locally to use the Spa & Wellness Centre which includes an indoor pool, outdoor thermal pool, sauna, Turkish bath and a range of massage and treatments are also available.

The Hotel Olivi Thermae & Natural Spa's fantastic location on Lake Garda means you are within easy reach of visiting the delights of Sirmione, such as its medieval castle Rocca Scagliera and the Roman ruins that occupy the tip of the peninsula.
The hotel has 60 rooms (official rating 4 star) Citalia does not accept children at this hotel however this hotel is not adults only. Minimum stay 3 nights.
Facilities
Bars & Restaurants
Belvedere Room
Included With: Bed & Breakfast
Open 7.30am - 10.30am

Serving an extensive hot and cold buffet breakfast. Guests can enjoy breakfast on the terrace (when weather permits) which overlooks the beautiful garden and swimming pool.
Degli Ulivi Restaurant
Included With: Half Board
Open 12.30pm - 1.30pm and 7.45pm - 9.45pm

This classical restaurant serves elegant, traditional Italian cuisine with a rich buffet with vegetables and salads, along with a wide selection of Italian and local wines.
La Bissa Restaurant
Open 12.30pm - 3pm (Bar is open 10am - 7pm) during the summer

Decorated in white and lilac, this relaxed poolside restaurant serves lunch either at the table on the terrace or in the sofa area. It is possible to enjoy a variety of snacks, Italian cuisine with a rich buffet of salad and vegetables, tasty desserts and ice-creams.

La Limonaia Restaurant
Open 7.45pm - 9.45pm during the summer

Situated on the terrace of Degli Ulivi Restaurant, La Limonaia is open during summer evenings. This restaurant is the ideal place to enjoy a candlelit dinner on the paroramic terrace overlooking the lake.
Lounge Bar
Open all day (snacks are served from 6.30pm)

The Lounge Bar has a relaxing and colourful atmosphere where guests can be entertained on the comfortable sofas or on the terrace during the summer. A wide selection of drinks and cocktails is served all day and from 6.30pm, a buffet of sweet and savoury snacks is served.
Beach & Pools
Swimming pool
Seawater swimming pool (normally in use May - September) and complimentary towels.
Spa & Wellness
Spa & Wellness Centre
Enjoy use of the indoor swimming pool, outdoor thermal pool, sauna, emotional shower and Turkish bath, with massages and beauty treatments available to book.

Entrance is 20.00 euros per person and is payable locally.

Parking & Wifi
Parking
Free on-site parking.
Wifi
Stay connected with the wifi available free of charge.
About the location
Sirmione holidays take you to a historic spa town on the shores of Lake Garda. The oldest part of Sirmione stands on a narrow 3km long peninsula that juts out into the lake, offering strolls beside the water and a series of narrow cobbled streets and squares. The town's famous thermal waters have been attracting visitors since classical times and you can still take advantage of their relaxing qualities at several spas.

Sirmione is one of the most popular resorts on Lake Garda – as well as the healing waters, visitors are drawn to its fairy tale medieval castle, ancient Roman ruins and some highly regarded ice cream parlours. The town's location at the southern end of Lake Garda makes it easily accessible. By road the A4 Autostrada passes within 5km of Sirmione, while the nearest railway station is 8km away at Desenzano del Garda, on the main Venice-Milan line.
Transfer Time
Return private transfers included. To change your transfers or book car hire instead, simply call us once you've completed your booking.
King Room
Max 2 Adults
These rooms boast a king-size bed and are comfortably decorated with contemporary furnishings.
Size: 24m²
Superior Lake View Balcony
Superior Lake View & Balcony Rooms feature a beautiful lake view from the balcony and sleep two adults.
Size: 20m²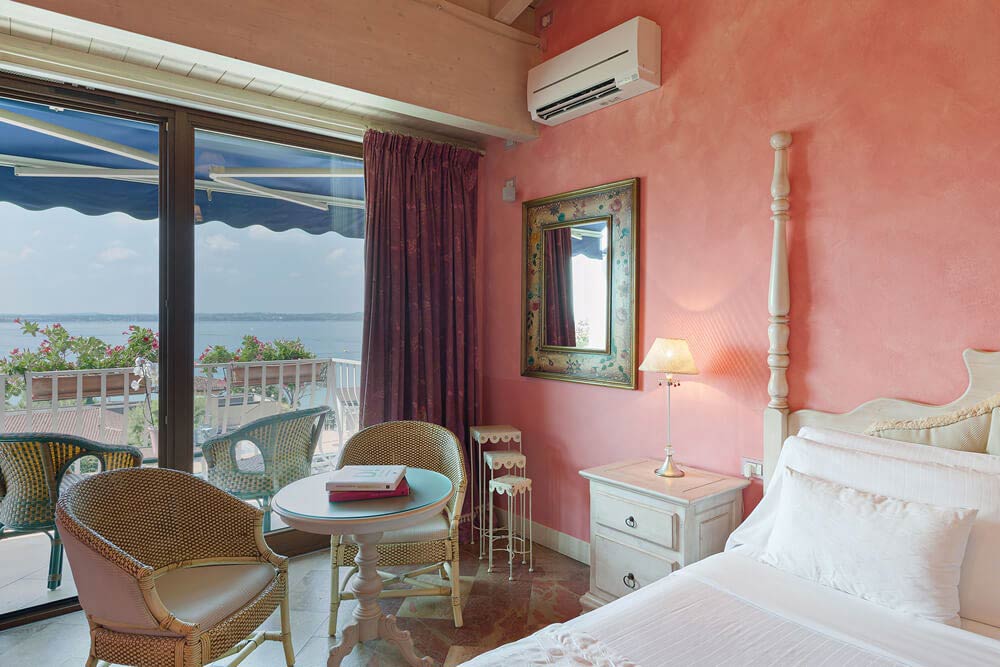 Premier Lake View & Balcony Room
Max 2 Adults
Premier Rooms feature a king-size bed with a balcony with a lake view. Some rooms are split over two levels with a lounge area on the mezzanine floor, linked by a spiral staircase to the main bedroom
Size: 24m²
Early Booking Discount
5% Early booking discount for stays completed between 01 March - 31 October 2022 booked at least 30 days prior to departure.
Rate Reduction
10% Discount for stays completed between 19 September - 31 October 2021.
Wellness and Spa Offer
Complimentary access to Spa for all Citalia guests. Valid all season.

Based on 1354 traveller reviews

86% of travellers recommended this hotel
Travellers Ratings
What to expect
Reviews
"
Standards slipping a bit
AMBullen, London, United Kingdom
Sep 21 2021
This hotel has been one of my favourites in Italy for about 25 years. It has stunning views and most rooms have lovely balconies. The family who run it have always been around and made sure...
This hotel has been one of my favourites in Italy for about 25 years. It has stunning views and most rooms have lovely balconies. The family who run it have always been around and made sure everything went well. I felt that this year standards had slipped quite a bit. Service in the restaurant was not up to their usual standards with some staff being bad-tempered and slamming food on the table. The food is still excellent but it was a shame that it was more often than not served on cold plates. Breakfast was a nightmare with long queues for a buffet that you could not see. Why not put menu cards on the tables and get the waiters to serve. There were an awful lot of wasps around too ??? perhaps a nest was nearby. The bedrooms are in need of an upgrade. Absolutely nothing in the rooms ??? no information, not even a QR code to advise you on meal times. No tea/coffee making facility until I asked for a kettle. Pool service was zero. I was there for two weeks and not once was I asked if I would like a drink. They are surely missing out on business. It is a beautiful pool, but I think it is a shame that the jacuzzi is attached to the pool so kids climb in and jump out into the pool, screaming and yelling. It was sad to see so many dogs everywhere, and all too often off their leads. Highly dangerous for guests. I had a dog in the next door room for 4 days of my stay ??? it???s yapping nearly drove me mad. There is now plastic grass on balconies ??? I wonder what dogs do on that in the mornings. I would have thought return guests should be acknowledged. At least a card of welcome in the room if nothing else. I had a significant birthday which I informed them when booking, but it was hardly noticed. Sad to see the blue awnings have gone. They stood out so beautifully when on a ferry on the Lake.
View full review
"
Nice hotel with room for improvement
Sugarplumcici, Paris, France
Aug 22 2021
We picked this hotel specifically for the spa, and it didn't disappoint. Although the spa is not huge, it has sauna, Hamman, hot/ice showers and 2 natural pools. We easily spent 2-3 hours relaxing...
We picked this hotel specifically for the spa, and it didn't disappoint. Although the spa is not huge, it has sauna, Hamman, hot/ice showers and 2 natural pools. We easily spent 2-3 hours relaxing there. The hotel also has a great range of facilities - beautiful garden, large pool where you can swim laps, restaurant with a terrace...but we were disappointed with the room. It's very small and dated, which in itself is not a problem, but many furniture and fixtures were showing very visible signs of wear and tear and look like they haven't been thoroughly cleaned (the light switches have a dark rim around each button...). Bathroom seems more recently renovated and cleaner. Staff were generally friendly except one or two, who didn't seem to care...we came from another hotel with the most wonderful staff, so the comparison was evident and the level of service was definitely not as top-notch as you'd expect. Another word of advice, the hotel is located near the very tip of Sirmione old town, if you're coming by car, you have to drive through the old town in very narrow streets through masses of pedestrians at 5km speed and we found it stressful to do so every day. It took extra 10 minutes just to get out of the old town.
View full review