Situated in the historic centre of Gardone on the shores of Lake Garda

Soak up panoramic lake views from the spacious terrace

Unwind in the heated pool or find a shady spot in the beautiful gardens

Take a trip across to the Lake's Eastern shore by ferry
When you pair the elegance of the 19th-century with the modern comforts of today, you get the Grand Hotel Gardone. Built in 1884, this 4-star historic hotel on Lake Garda offers a taste of vintage glamour for the 21st century.
Grand Hotel Gardone is an epic, iconic sight. The hotel's glorious yellow facade is an emblem of the region. Set in a prime position on the western shore of the lake, the hotel's art nouveau architecture is just lovely - and offers a full, jaw-dropping first impression of what to expect from your stay here. The unique mix of great location, sophistication and style is undoubtedly why it was one of the most popular stops for the belle epoque bourgeoisie. Everyone from Sir Winston Churchill to Vladimir Nabokov stayed here during its heyday.
The hotel's sweeping lake views will steal your heart. Whether you are dining on the beautiful terrace, enjoying the heated outside pool or just soaking up the sun, Grand Hotel Gardone's stunning, uninterrupted lake views are truly amazing. Enjoy them from one of the two fabulous restaurants, the pool snack bar or the piano bar for the full, morning to night experience. Be sure to ask for a room with a view - believe us, it's worth it!
The hotel has 167 rooms (official rating 4 star) Child prices apply to ages 2-11 years. Half board consists of a buffet breakfast and dinner. Minimum stay 3 nights.
Facilities
Bars & Restaurants
We all know that eating and drinking in Italy is serious business. So we're pleased to say that Grand Hotel Gardone's two restaurants, poolside snack bar and piano bar offer the very best in gastronomic fare. From drinking in those stupendous views while drinking a bespoke cocktail at Winnie's bar to enjoying the extravagant buffet served in the Grand Hotel Restaurant, you'll find everything from local to international dishes to keep you satisfied!
Giardino dei Limoni
Dress Code: Gentlemen are required to wear long trousers in the evening.
Open 12.30pm - 2pm and 7pm - 9.30pm
The Lemon Garden Restaurant provides a delightful lakeside location for a spot of lunch, or for dining by candlelight in the warm evenings. The chef's dishes are paired with recommendations from the extensive wine list, which offers both local favourites and international labels.
Grand Hotel Restaurant
Included With: Bed & Breakfast, Half Board
Dress Code: Gentlemen are required to wear long trousers in the evening.
Open 7am - 10.30am and 7pm - 9.30pm

The Grand Hotel Restaurant spills out onto the lakeside veranda and is included as a half board or full board option. The highlight is the sumptuous buffet, which includes fresh fruit and homemade bread at breakfast, as well as seasonal salads and Italian cheeses in the evening. The menu varies from day to day and brings together international and Italian tastes that make the most of local ingredients.
Winnie's Piano Bar
Open from 8am - Midnight daily from May - September

A favourite haunt of Sir Winston Churchill, this elegant and comfortable bar offers live music in the evenings.
Winnie's Pool Bar
Open 12pm - 3pm and drinks served from 10am - 6pm (In high season)

Winnie's Pool Bar is perfect for a bite of lunch or a cocktail or two by the pool.
Beach & Pools
Swimming Pool
Soak up the Italian sunshine in Grand Hotel Gardone's exceptional lakeside setting. The 4* hotel in Lake Garda has a superb heated outdoor pool (with to-die-for views), completed by the surrounding solarium, whirlpool, sun loungers and parasols. And even if there's no ocean, you can still go to the beach! Grand Hotel Gardone's private jetty allows you to plunge right into that bright, beautiful, blue water.
Spa & Wellness
Spa
Enjoy your luxury holiday to its fullest by booking a spa session. Grand Hotel Gardone's Wellness Centre is both sophisticated and relaxed. Awaken the senses with a sauna, Turkish bath or gym session. And for that extra bit of R&R, why not book a massage or treatment, and truly pamper yourself.
Parking & Wifi
Parking
Parking can be found nearby to the Grand Hotel Gardone, at a rate of €14 per day.

Free Wifi
Free access to WiFi is available throughout the hotel premises.

About the location
Lake Garda - or Lago di Garda as it is known to locals - is one of Italy's most famous travel destinations. At over 370 sq km, it is Italy's biggest lake, a fact which can be seen in its diverse landscape. From olive groves and lemon trees in the south to snow-covered alpine peaks in the north, it is easy to see why Lake Garda has been topping travel wish lists for years.
Gardone Riviera is found on the western shore of the lake. The peaceful town is everything you would expect from iconic Italy. Take a stroll - the famous passeggiata - in the elegant streets or waterfront promenade and simply imbibe in the laid back sophistication that Gardone is famous for. Find a cafe, enjoy a glass of delicious local wine and watch the world go by.
The town warrants discovery. Head up to Gardone Sopra, a 15-minute walk away, for a chance to visit the historic centre. Not to be missed is Il Vittoriale, the Art Deco estate of the poet and eccentric Gabriele D'Annunzio. Il Vittoriale is exceptionally popular with visitors to Lake Garda, so arrive early to avoid queues.
If you want to visit the surrounding area, the choices are endless: take a bus to the small visit of San Michele just behind the town, and enjoy the breathtaking views on the walk down. Or jump on a ferry and visit the eastern shore of the lake, where you'll be able to see the Grand Hotel Gardone in its full glory.
Transfer Time
The hotel is 1 hour 15 minutes from Verona airport. Return private transfers included. To change your transfers or book car hire instead, simply call us once you've completed your booking.
Twin Classic Front Lake View Balcony
Max 2 Adults
The twin classic rooms are bright and cosy and retain the classic essence of the hotel with their traditional furnishings. Step straight out onto the balcony in the morning for the first lake view of the day. The rooms are available with double or twin beds
Size: 20m²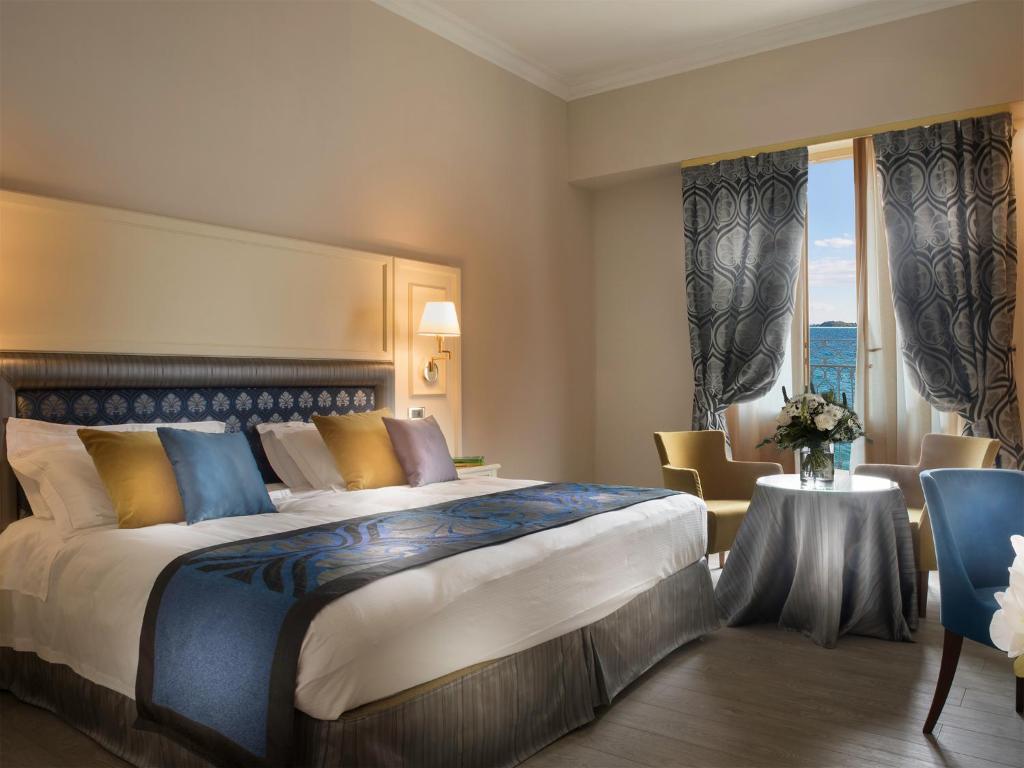 Twin Superior Front Lake View & Balcony Room
Max 2 Adults
A step up from the classic, the superior room has a slightly more modern edge to the décor, with a balcony over looking the lake making it perfect for a sunset drink before dinner.
Size: 20m²
Junior Suite Lake View Balcony or Patio
Max 3 Adults
The junior suite is a luxurious space accommodating three people, with a large bathroom and balcony over looking the lake. The elegant interior brings a contemporary edge to Italian tradition and includes a comfortable seating area perfect for a lazy morning coffee.
Size: 30-35m²
Single Lake View & Balcony Room
Max 1 Adult
The single lake view room is a bright and comfortable space for one, with a small balcony. The en suite bathroom contain either a bathtub or shower. This room is on request so please call to book.
Size: 13m²
Early Booking Discount
10% Early booking discount for stays completed between 14 May - 23 September 2022 booked by 31 January 2022.
Free Night Offer
1 free night for stays of 5 nights or more between the 08 April - 13 May 2022 and 24 September - 20 October 2022.

Based on 1617 traveller reviews

91% of travellers recommended this hotel
Travellers Ratings
What to expect
Reviews
"
A traditional hotel on the shores of lake Garda
gilardoni, Mandello del Lario, Italy
Oct 02 2021
Room 114??? a bit distant from the hall but extremely quiet and with a great view over Lake Garda. Fully equipped. Being away from the entrance is an advantage also because during the day there is...
Room 114??? a bit distant from the hall but extremely quiet and with a great view over Lake Garda. Fully equipped. Being away from the entrance is an advantage also because during the day there is quite a bit of traffic of boats, ferry etc as the town pier is just across the fence. The hotel is a bit ???fane?????? and certain objects or areas need some restoration work (carpets, walls and door steps). The service is very professional and the restaurant well managed. The conference room is well equipped and opens on a fantastic terrace. Good wifi all over the property. Ask for parking spaces because they have very few and not all surveilled.
View full review
"
Improvement ideas, critic
Daydream59376464768,
Sep 17 2021
- carpet in room 360 was very dirty and should be cleaned - daily cleaning was very insufficient. Even after cleaning bathroom was still dirty with hair on the floor. From a hotel of your standard...
- carpet in room 360 was very dirty and should be cleaned - daily cleaning was very insufficient. Even after cleaning bathroom was still dirty with hair on the floor. From a hotel of your standard and reputation I would expect - welcome water on arrival - coffee and tea and water boiler on the room - water dispender in the fitness room
View full review