Located 10 miles from the picturesque fishing town of Cefalù
Wide range of sporting activities and family entertainment
All inclusive option available
The stylish and modern Acacia Resort is set within its own spacious, landscaped grounds that lead to a private beach. The fresh, elegant interiors are designed in a contemporary style with wicker furnishings and all guest rooms have spacious private balconies. Amidst attractive gardens, a large lagoon-style swimming pool (normally in use mid April - September) with sunbeds provides a lovely setting in which to relax.

The hotel is an excellent choice for families as there are interconnecting rooms via an internal door or balcony. Children will love the hotel's kids club where a wide range of activities are planned every day or they can take part in sports including volleyball, mini cricket, table tennis and football. There's also the option to dine with the animation team in the children's restaurant before taking part in the mini disco in the evenings.

For those looking for an active holiday, there is an extensive range of land and water based activities including tennis, mini football, canoeing and pedalos. Otherwise, the relaxing environment makes for an ideal Sicilian retreat. The hotel is situated near to the picturesque fishing town of Cefalù, ten miles away, and there is a minibus (payable locally) to the town centre and Palermo, which is 25 miles away.
The hotel has 224 rooms (official rating 4 star). Child prices apply to ages 2-12 years.
Minimum stay 3 nights (7 nights in the month of August)
Please Note: The interconnecting rooms that connect via the balcony are suitable for adults and children aged over 16 years only. Bookings including younger children should use the interconnecting rooms which connect via an internal door.
Please Note: The beach consists of sand and pebbles.
Please Note: There is loud music at fixed times around the pool during Aqua Gym.
Facilities
Bars & Restaurants
The Globe Bar
The American style bar serves soft drinks and snacks during the day and cocktails throughout the evening.

Open: 9.30am - midnight
Sala Angurie Restaurant
Included With: Half Board
Dress Code: Gentlemen are required to wear long trousers during the evening.

This buffet restaurant offering a variety of meals including pasta and local specialities.

Breakfast: 7am - 10am

Lunch: 12.30pm - 2.30pm

Dinner: 7.30pm - 9.30pm
Pool Bar
The Pool Bar serves hot and cold drinks and light snacks including sandwiches, pasta and salads. Open from May to September (weather dependent).

Open: 10am - 6pm

Snacks: 12pm - 4pm
Beach & Pools
Private Beach
The private beach is equipped with sunloungers and umbrellas and complimentary beach towels are provided (there is a €3 charge to change them).

There's also a watersports club with canoes and pedaloes (payable locally).
Swimming Pool
The hotel's large outdoor seawater pool is an ideal place for families to relax. It's open from mid April to October and a poolside snack bar is on hand during the day between 10am and 6pm. Complimentary pool towels are provided (there is a €3 charge to change them).
Spa & Wellness
Spa
The relaxing spa area offers a range of treatments and a relaxation area that enjoys views over the resort towards the sea (Payable locally).

Open: 10am - 6pm Daily

Please Note: Children under the age of 16 years are not permitted in the spa. As the Spa pool and Jacuzzi are located on the roof garden, they are open weather depending.
Activities & Entertainment
Sports Activities
The hotel has a variety of activities including tennis, volleyball, mini golf, mini football and table tennis.
For Families
Kids Club
The hotel kids club caters for ages 4-12 years and is open daily from 9.30am - 12.30pm and 4pm - 6.30pm. The hotel has its own playground and toys are available for hire. Highchairs are available for use free of charge in the hotel's restaurant. An animation team operate a comprehensive programme of activities for children on a daily basis. There is also a wide range of sports activities available at your disposal including volleyball, mini cricket, table tennis and mini football. There is also a sailing club with the possibility of renting canoes and pedal boats.

Children can dine separately at the Goofy Restaurant with the hotel's animation team, between 7.30pm - 9pm and a mini disco is held from 9.15pm - 9.45pm.

Please Note: Some activities may be payable locally.
Wifi & Parking
Wifi & Parking
Stay connected with the wifi free of charge.
On-site parking is available free of charge.
About the location
Holidays in
Cefalù
give you a microcosm of the best of
Italy
. Whatever attracts you to Sicily, or even the beautiful country itself, you'll find it in this coastal town whose character greatly overcomes its modest size. Whether you're looking for modern metropolitan culture, to explore absorbing historical heritage or simply to settle in for long sun drenched days on luxurious beaches living the true la dolce vita,
Cefalù
has it all.
Situated on Sicily's Tyrrhenian coast a short way east of Palermo and in the shade of the large headland La Rocca, Cefalu holidays offer something for families, couples and adventurers. From the imposingly grand Cathedral to the ancient Roman Baths there is no shortage of sightseeing opportunities, while families with younger children will love the long golden sandy beach. Couples will adore a leisurely romantic stroll through the cobblestone streets or walk to the top of La Rocca to take in an idyllic sunset before heading back into town and dinner at one of Cefalu's many fine restaurants.
Transfer time
The hotel is 1 hour 30 minutes from Palermo airport. Return private transfers included. To change your transfers or book car hire instead, simply call us once you've completed your booking.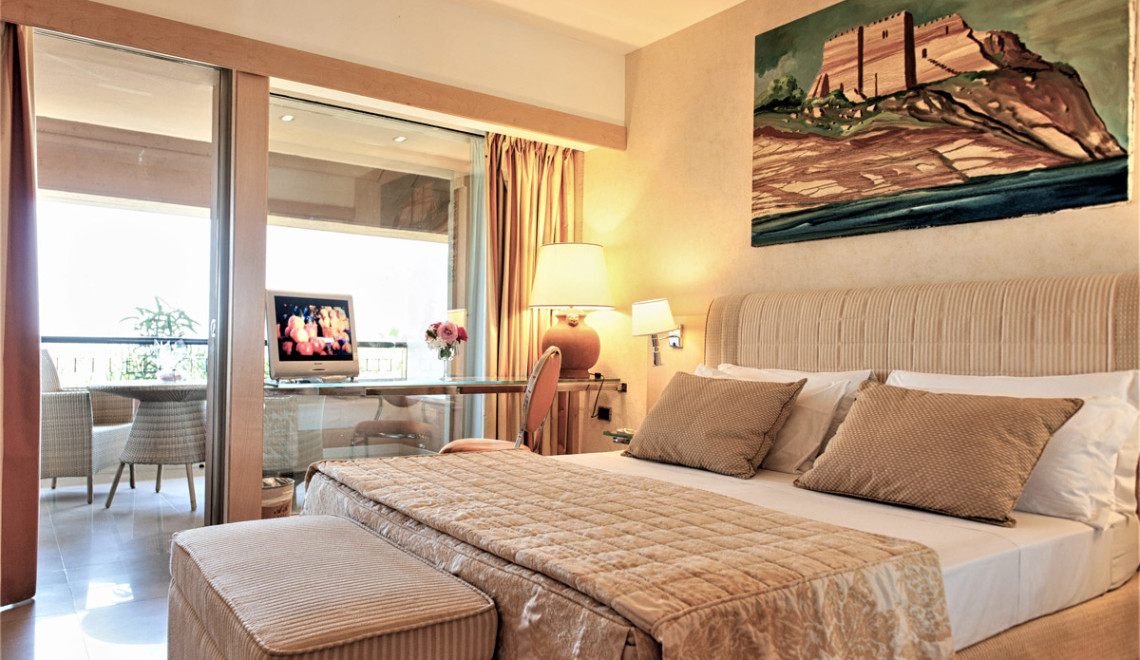 Twin Balcony Room
Max 3 adults, 1 child
Twin Rooms have a balcony and are located in the main building overlooking the gardens.
14-20m²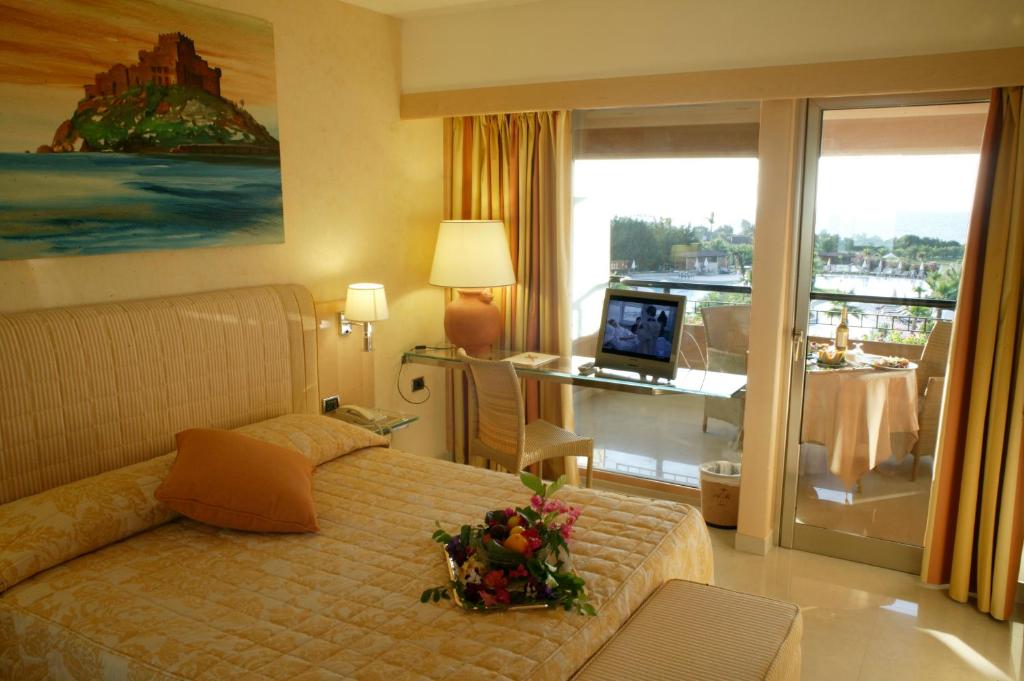 Twin Front Sea View Balcony Room
Max 2 adults
Twin Front Sea View Rooms are located on the 3rd floor of the main building and face the sea, however some sea views may be restricted by the growing vegetation.
14m²
Deluxe Pool View Room
Max 2 adults
Deluxe Pool View Rooms can be found on the first and second floor of the main building and feature a large and covered balcony, they are spacious and boast a comfortable sofa.
These room types face the main garden and the beautiful swimming pool.
20m²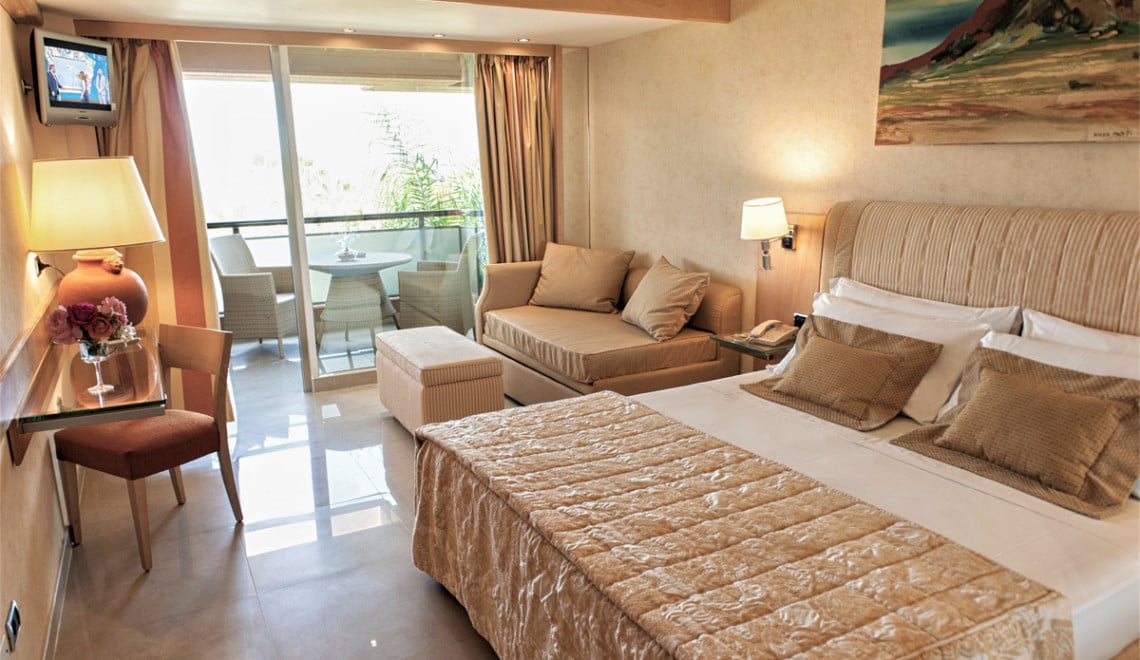 Deluxe Room Balcony
Max 2 adults
Deluxe Rooms are located in the main building with views of the hotel grounds and have a sofa area and a furnished balcony.

20m²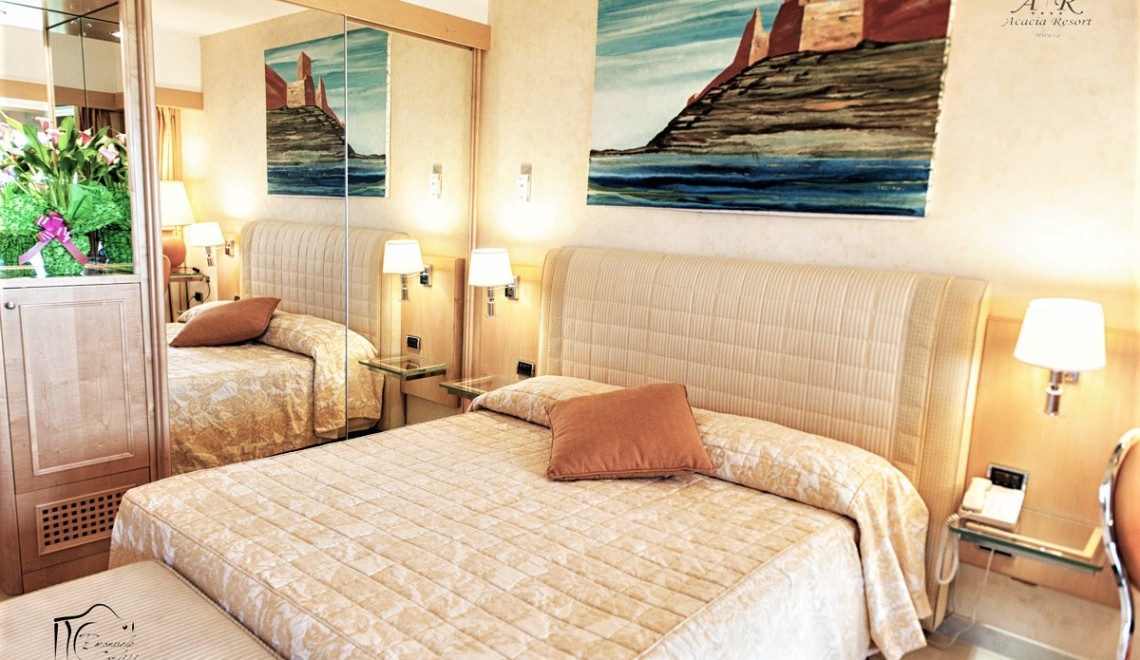 Twin Interconnecting Pool Side View (pair)
Max 5 adults
Two twin interconnecting rooms with side pool view, sleeping up to 5 people.
30m²
Early Booking Discount
20% discount for stays of 7 nights or more for stays completed between 20 April - 22 October 2022 booked by 31 January 2022.
Free Night Offer
1 Free night for stays of 14 nights or more completed between 20 April - 22 October 2022.
January Sale
- Exclusive to Citalia!
Two complimentary lunches per person per stay excluding beverages.
Valid for stays of 7 nights or more between 20 April - 22 October 2022 booked by 31 January 2022.

Based on 1198 traveller reviews

83% of travellers recommended this hotel
Travellers Ratings
What to expect
Reviews
"
Loved it but I'll come back for the fifth star! (some things needs improving)
CB_travells, London, United Kingdom
Sep 03 2021
I visited the Acacia Resort with my family for my dad's 70th birthday. 5 guests organized into 2 rooms. It was a last-minute booking which turned out in a great unexpected surprise. The structure is...
I visited the Acacia Resort with my family for my dad's 70th birthday. 5 guests organized into 2 rooms. It was a last-minute booking which turned out in a great unexpected surprise. The structure is amazing, well-kept, clean, and full of green, palms (and mirrors) everywhere. One really feels on holiday when in there. The pool is the showstopper with an unusual shape, fountains, and little oases in the middle. Because of its depth, it's not really good for swimming as a pro but great to relax, chill and do some light water sports. The beach is at a walk distance from the pool and from the hotel, easy to get to with plenty of chairs and umbrellas. The water is generally clean and warm, probably not as crystal clear as in Cefal?? or other parts of Sicily, yet, the sunset is worth watching. The all-inclusive formula is with buffet, no table service. The food is great, fresh, and mostly local cuisine which is delicious. There are veggie options too. The only bad issue they need to take care of is the flies, which were everywhere in the outside and inside dining area, quite annoying to be fair as they would lean on the food and on us while trying to eat. The waiting staff is generally nice, during the days we were there they looked a little stressed and running around but remained kind and polite all the way through. Waiting for tables can also be an issue especially when it's hot outside. I do suggest dining inside for a better experience. The rooms were clean, spacious, and comfortable. The furniture seemed to be new as well, however, we had a bit of disappoitment about the beds. We booked a triple room with a double bed for my parents and a single bed for the third person. Only after two nights of very uncomfortable sleep, we found out that the single bed wasn't a mattress at all but just a part of the sofa with an especially made add-on part with a little mattress. This created a huge gap which gave me back pains and uncomfortable sleep. It was quite disappointing as one pays a lot of money for a resort where sleep is of paramount importance in order to enjoy the rest of the experience. So check your beds when you arrive! Wi-fi is free for all rooms although the reception is our room wasn't great. The entertainment was a downer, the guys were too young and inexperienced, they barely knew how to get people involved, and having worked in the same field for years I know the difference between a good "soft entertainment" and an almost absent one. The only good thing was a fantastic singer/musician who played for two nights in a row offering us quite a show! He is an amazing talent! Another thing that should be improved is the closing times of the pool and the beach, especially because the sunset could be enjoyed from there maybe with a drink some light snacks, interested both places shut at 7 pm. Suggestion: organize a sunset aperitivo with some lounge music, you'll see how people will turn up and enjoy it. I hope this review can help both the managers of the Acacia resort and the new potential customers. We will go back hoping to enjoy a better experience and give the Acacia Resort the 5 stars that it could potentially deserve.
View full review
"
Ok, but with unused potential
Gerardbracke,
Aug 30 2021
Pro: - the pool is outstanding, probably one of the best pools on the north coast. Ideal for little children. - the hotel fauna and flora is gorgeous - the dinner area is so romantic in the evening...
Pro: - the pool is outstanding, probably one of the best pools on the north coast. Ideal for little children. - the hotel fauna and flora is gorgeous - the dinner area is so romantic in the evening - Very polite and friendly waiters and cleaning staff Con: - reception is slow. desk staff and pool staff can be bold and rude - animation is poor, lots of youngsters but no organization, structure, no punctuality. It used to be much better - pool can be dirty and isn't as clean as it used to be - loud disco noise at the pool, animation puts on music THEY want to hear, not what the audience wants to hear (imagine too loud dance music all day long, one day it was Vasco Rossi for a few hours) - too simple morning dinner, every day the same, e.g no omelet, no fried egg, only scrambled. Too little variation in the food overall. I do recommend this hotel, having visited multiple hotels on the north coast I enjoyed this hotel the most. Even though it has so much potential to become so much better if appropriate improvement actions were taken.
View full review