A luxurious hotel celebrating Puglia's beautiful landscapes and architecture
Caters to both couples and families, including no adult dinners and Michelin starred dining
Relax at the spa, enjoy the 18 hole golf course, take the children horse riding or play tennis
Unwind on the hotel's private beach and take in views of the sparkling Adriatic Sea
Borgo Egnazia is a luxurious five star hotel, found on the Adriatic coastline in Italy's beautiful Puglia region. Built in the style of an Apulian Palace, it offers traditional whitewashed architecture and a host of amenities for both families and couples.

Families at Borgo Egnazia will enjoy a choice of four swimming pools and many amenities, including family friendly villas and no adult dinners. There's plenty to keep everyone occupied, including cooking lessons, horse riding and tennis. Couples can head to the spa, which is built in the style of a Roman bathhouse and offers a full menu of treatments. There's also a Michelin starred restaurant, a pizzeria and three other restaurants to choose from.

Spend the day at the hotel's private beach, where you can relax on luxury beds as you enjoy lounger service and views of the Adriatic Sea. Alternatively, explore the spectacular Puglia coastline or head to pretty Bari, which is just an hour's drive away.
The hotel has 184 rooms (official rating 5 star).
Facilities
Bars & Restaurants
Due Camini Restaurant
Included With: Bed & Breakfast, Half Board, Full Board
Dress Code: Long trousers and closed shoes are required for men.

Due Camini is a romantic michelin star restaurant serving a delicious à la carte menu of local specialities, representing the past and the changing of seasons. Prepared with the freshest ingredients and served with a selection of the best Italian wines.

Open 7am - 10.30am, 12.30pm - 2.30pm and 8pm - 11pm (closed Tuesday). Guests on half board can eat at this restaurant with a supplement.

Restrictions:
Children under 12 years are not permitted.
La Frasca Restaurant
This informal, rustic restaurant serves a range of Apulian-inspired dishes made with local products and traditional recipies.

Open 7pm - 10pm from May to October (subject to the weather). Guests on half board can eat at this restaurant.
Mia Cucina
Trattoria Mia Cucina offers home-made, traditional dishes. This open kitchen is located within the La Frasca Restaurant and offers guests a chance to take cooking lessons where they can discover the recipes and cooking secrets of the chef. The dress code is casual with a relaxed, informal setting and menu comprised of traditional appetisers, pizza's freshly prepared and cooked in the wood oven, and salads.

Open 12.30pm - 2.30pm and 7.30pm - 10.30pm from May to September. Guests on half board can eat at this restaurant.
Calamasciola
Located on the beach by Cala Masciola Beach Club, five-minutes from Borgo Egnazia and offering beautiful views over the sea. Here you can enjoy a wide range of light and tasty salads, pasta dishes and grilled fish which can be hand-picked from the choice of daily catches and cooked to guests specification.

Open: May - October. Guests on half board can eat at this restaurant.
3 Bars
The main bar of Borgo Egnazia, Bar del Portico is the perfect place to relax with an aperitivo with an ample choice of wines and liquors. Two other bars, Capanno and l'Angoletto are located next to the pools.
Il Porticato Restaurant
The main restaurant at the Borgo Egnazia, serving typical Puglian cuisine

Open all year round. Guests on Half Board can dine in this restaurant.
Il Cortile
Il Cortile is a pleasant outdoor space dedicated to live cooking with the freshest raw materials.

Open: July and August. Guests on half board can eat at this restaurant.
Da Frisella
Da Frisella Restaurant was created for the hotel's youngest guests and offers a menu of healthy and balanced meals which varies daily.
Beach & Pools
2 Beach Clubs
Borgo Egnazia guests can choose from two beach clubs. Cala Masciola (open May to October) is a rocky beach with a watersports centre, relaxing cabanas and a restaurant. Le Fonte (open June to September) is a five-minute drive away from the hotel and is a lovely sandy beach perfect for families. It offers games for children, loungers, gazebos and a bar.
3 Outdoor Swimming Pools
Guests can choose from three outdoor pools at the Borgo Egnazia, one is located in the Borgo Village area and boasts a children's section, and the other two are located in La Corte. Complimentary pool towels are provided.
Heated Indoor Pool
The indoor pool is open from 7am - 9pm.
Spa & Wellness
Vair Spa & Fitness Centre
The Vair Spa offers guests relaxing facilities and professional treatments inspired by the ancient and authentic land.

Opening times:

Monday - Friday & Sunday: 10am - 1pm & 4pm - 8pm

Saturday: 10am - 1pm & 3pm - 8pm

There is also a fitness room which is well equipped and is open 24 hours. A professional trainer is available for a free consolation or personal training sessions as an extra charge.
Activities & Entertainment
Indigenus Experiences
Indigenus provides guests with a range of Nowhere Else Experiences helping guests to relive the life of natives. Experiences include a visit to the old town by vintage car, cooking classes and trekking around the breathtaking landscapes of Puglia.

Activities are payable locally.
Cigar & Games Room
Equipped with a billiards table, board games, TV with SKY cable and satellite channels.
Sports Facilities
Golf, Borgo Egnazia is located next to the 18-hole San Domenico championship golf course.

Tennis, the hotel's four tennis courts include two with synthetic grass and two professional hardcourts and are free of charge for guests to use. The hotel can organise lessons and tennis clinics are led by international players.

Bicycle hire, bicycles are available for hire (payable locally, approx. €20 per day).
For Families
Trullalleri Kid's Club
Trullalleri Kid's Club and nursery caters for ages 3 - 7 years and is open daily from 9.30am - 6.30pm. A team of qualified staff provide a wide variety of creative activities to keep children of all ages entertained, including baking sessions, arts & crafts and outdoor fun in the mini-garden and farm.

The club is free of charge for children aged 3-7 years (some activities and meals are payable locally). Pre-booking is recommended.

A babysitting service is available 24 hours a day on request, to be booked 24 hours in advance.
Tarantari and-Marinai Club
The Tarantari & Marinai Club caters for ages 8-12 (Marina) and 13-16 (Tarantari) years and is open daily. Guests can take part in fun activities including sports, pool games, go-kart and dance competitions, arts and crafts workshops and a five-a-side tournament every day. The club is free of charge.
Parking
Parking
On-site parking is available free of charge.
About the location
Holidays in Savelletri di Fasano, a tiny village which is officially part of the town of Fasano, give you the tranquillity of a tiny village with the larger town of Fasano nearby. The village is around 7km from the main town and sits on the coast of the Puglia region on the 'heel' of Italy. Savelletri di Fasano is the ideal place for getting away from it all. There are plenty of beach and sea activities to indulge in, including diving and snorkelling, but the otherwise slow pace of life makes this the ideal place for couples and those seeking to relax. An evening stroll along the idyllic harbour front is the perfect way to round off a warm summer day, while the village's restaurants offer delicious local food combined with charming sea views.

Less than 15 minutes' travel away is the town of Fasano itself, which is an altogether livelier place. Families will enjoy the town's many attractions, such as the Fasano Zoo and Safari Park. There are ruins dating from Roman times at Scavi D'Egnazia, as well as plenty of other historical sights worth visiting. If you want to travel further afield, the larger cities of Bari and Brindisi are roughly equidistant from Savelletri di Fasano along the coast.

Transfer time
Car hire is recommended for this hotel. Savelletri di Fasano is 40 miles from Bari airport and 30 miles from Brindisi airport. Simply call us once you've completed your booking and we will talk you through the options.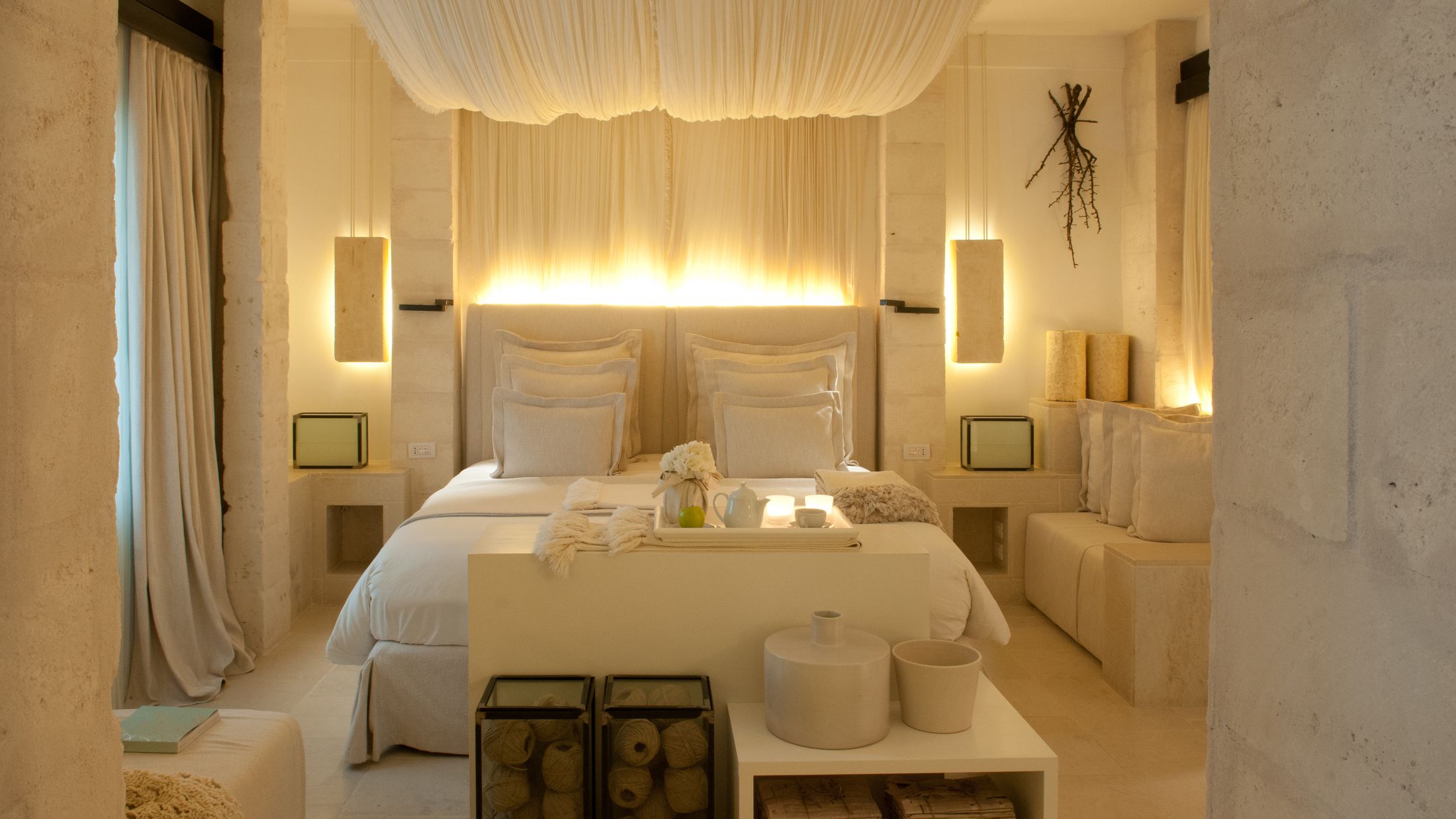 La Corte Bella
Max 2 adults
An intimate, cozy room nestled in the vaulted corridors at the top of the imposing double staircase of La Corte. With its contemporary yet evocative traditional decorations, the comfortable super king-size bed and sofa, the stone writing desk and the stylish bathroom make it the perfect space for taking some precious time for yourself.
33-37m²
La Corte Splendida
Max 3 adults
La Corte Splendida combines space with style, through a comfortable and spacious living area with a big sofa and a sturdy stone desk, plus a large bathroom with double stone basin and a glass-encased walk-in shower. As for the furnishings, all the Borgo Egnazia signature fine and traditional Puglian details are there. The choice between a highly panoramic balcony or a secluded garden, both equipped with a table and chairs, further ensures an experience of privacy and relaxation.
42-46m²
La Corte Magnifica
Max 3 adults
La Corte Magnifica rooms are the suites in La Corte, featuring a bright living area with two sofas, a large stone table next to an exquisite decorative fireplace. The separate bedroom is both spacious and stylish, with a super king-size bed and a large bathroom. The suite's private terrace is equipped with
table, chairs and some sun loungers allowing guests to enjoy the view over the swimming pool, the olive groves or the San Domenico golf course and the blue Adriatic sea.La Corte Magnifica (Grand Suites) have a bedroom, separate living room, double shower in the bathroom and a large terrace with views over the hills towards the sea. They are located in the main hotel.
60-75m²
Borgo Splendida
Max 2 adults, 1 child
The Borgo Splendida has a refined and rustic layout inspired by old Puglian rural houses featuring a spacious bedroom with a super king-size bed and a comfortable living corner with a sofa. This room boasts outdoor areas for privacy and relaxation: a spectacular roof terrace or a private Mediterranean patio garden.
42m²
Borgo Magnifica
Max 2 adults, 1 child
The largest yet most intimate accommodations in the Borgo, the simple and refined 2-room Borgo Magnifica is the ideal accommodation for a couple on a romantic getaway. It features a bedroom
with a super king-size four poster bed and a comfortable and stylish living area with a sofa. Its distinguished rustic style is inspired by old Puglian rural houses. Its roof terrace is the perfect scenario for a pleasant, intimate aperitif at sunset.
55m²
Casetta Bella
Max 2 adults, 1 child
The Casetta Bella is your chance to enjoy the simple, rustic coziness of the Borgo Egnazia's "casette", a two-storey
house in the Borgo providing fully-equipped accommodation with all comforts: a cozy living area with a small kitchenette and a bright double bedroom on the first floor. It also features a roof terrace from where one can witness the marvelous Puglian sunsets and a secluded private patio surrounded by
Mediterranean flora, where you can enjoy breakfast and peaceful moments.
60m²
Casetta Splendida
Max 2 adults, 2 children
A two-storey house ideal for a family with one or two children or a couple looking for extra space, the Casetta Splendida will remind you of the traditional homes of rural Puglian towns, but at the same time a modern, fully-equipped accommodation featuring a small kitchenette, living area, a double bedroom and a convertible studio. The private patio offers a secluded retreat in a real Puglian garden, while the roof terrace treats you to beautiful vistas.
90m²
Casetta Magnifica
Max 4 adults
The two-floor Casetta Magnifica is a secluded world in the very heart of the Borgo. Ideal for a 4-person family, two couples or four friends, is made in rough limestone and decorated with fine home furnishings in typical Puglian style. It features a small kitchenette, two double bedrooms, a cozy living area and three stone bathrooms, plus a sunlit roof terrace offering amazing vistas of the whole Borgo. The private patio garden, with table, chairs and sun loungers is ideal for chilling out during the warmer months or enjoying a nice aperitif at sunset.
90m²
Villa Magnifica
Max 8 adults
A grand, spacious three-storey limestone Mediterranean villa, filled with light and equipped with all modern comforts. It features everything you could wish for: a wide sunlit kitchen with a nice dining area, two living rooms on two different levels and three comfortable bedrooms, each with a private bathroom: one master bedroom and a twin bedroom on the first floor and a bedroom in the lower ground. The private garden allows complete privacy whilst taking a dive into the pool and relaxing moments in the shady patio or under the gazebo. Add to all of this a very special dedicated Puglian
"massaia", filling your day and breaks with stories and traditions and an appointed Local Adviser, giving you tips and suggestions for your stay. Included in your stay are also a complimentary "Happiness
check" at our Vair Spa, a green fee at the San Domenico Golf course and a lounger and cabana at the private beach Cala Masciola.
250m²
Villa Bella
Max 6 adults
The Villas are located in a separate area of the resort, the Villa Bella is a refined three-storey house in rough limestone, composed of a master bedroom and two further bedrooms, each with an adjacent bathroom, plus a private studio, two living areas and a live-in kitchen with a big dining table. Elegantly furnished and equipped with all comforts, it is surrounded by a thriving private garden with a shady patio and a pool ensuring the best chill-out times. Staying at the Villa Bella also means enjoying the company of a dedicated Local Adviser ready to help you with tips and suggestions about the local area. Ideal for families of 4 looking for extra space or a group of friends.
250m²
Villa Deliziosa
Max 6 adults
This three-storey six-guest Villa is inspired by the holiday houses of old Puglian landowners and incorporates a large thriving Mediterranean garden for an unforgettable experience of pleasant sunbathing, slow swims in its private pool and relaxation under the gazebo. Inside, the Villa Deliziosa features two living rooms with a big stone fireplace, an ample kitchen with a large dining table, a convertible private studio and three bedrooms, each with an adjacent bathroom: one master bedroom with a walk-in closet and two more twin or double bedrooms. The Villa Deliziosa also allows you to enjoy a true local experience, through the joyous company and the many suggestions and tips of a dedicated Local Adviser.
250m²
Villa Stupenda
Max 8 adults
Embraced by a large and luxurious private Puglian garden, featuring a gazebo and a pool, the three-storey Villa Stupenda is entirely made in rough limestone and furnished with a refined style, inspired by century-old traditions. It is equipped with all modern comforts for a pleasant stay: two living areas, one of which features a picturesque stone fireplace; a large kitchen with a big dining table; three bedrooms, each with an adjacent bathroom, and a private studio. There are many complimentary services included in this amazing Villa but the highlight is a dedicated Local Adviser, providing tips and assistance filling your day with stories and traditions.
250m²
Villa Meravigliosa
Max 8 adults
Rustic yet elegant in style, the Villa Meravigliosa is a grand three-storey house, enveloped by a 1000m² garden, spread over two levels and featuring a 150m² pool, a patio and a gazebo for moments of pure relaxation. Inside, the Villa Meravigliosa ensures an unforgettable and comfortable
stay through a fully-equipped kitchen, two living areas on two separate floors, three bedrooms each boasting an adjoining bathroom and a convertible studio. The terraces are equipped with stone comfortable seating area for a nice sunset apéritif overlooking the amazing countryside. The Villa also provides a number of complimentary services, such as an appointed Local Adviser, two heart-warming dedicated "massaie", a compact car, a golf cart and a fleet of bicycles available to you for your whole stay.
250m²

Based on 1789 traveller reviews

88% of travellers recommended this hotel
Travellers Ratings
What to expect
Reviews
SleepySea, Bellevue, Washington
Jan 24 2020
We stayed at the Borgo over the Christmas holiday in a Casette Splendida. The hotel honored my leaders club Aurelian membership and upgraded my booking to the biggest cassette (stand alone home type...
We stayed at the Borgo over the Christmas holiday in a Casette Splendida. The hotel honored my leaders club Aurelian membership and upgraded my booking to the biggest cassette (stand alone home type of lodging) and it was a very nice surprise! This property is truly one of a kind. It???s so big it???s almost a small town. I can???t remember the number of times we got lost just trying to find our room :D. The check in process was very swift and the front desk staff showed us to our room in her super stylish hooded robe. The lighting in this property is very soft to create a sense of warmth with nice aroma the air. Our room is equally amazing. On the first floor there is a living room, bathroom and a spare bedroom. On the second floor there is the master bedroom and master bathroom with full tub and a separate shower. It also has heated floor. It also comes with a private balcony and a roof top deck with partial ocean views. During our stay there was a special Christmas market in the central plaza every night with free appetizers, drinks and some interesting things to buy. There were also fun things to do such as pasta making class. There are plenty of dining options just inside the property with two separate breakfast halls. We tried the room service on our last day and the pizza was out of this world with excellent service. Overall we had such a blast at this hotel and we really are looking forward to our return in the near future.
View full review
Michelle_Hoppy, Melbourne, Australia
Jan 05 2020
We spent my birthday and New Years eve 2019/20 and could not recommend Borgo Egnazia more. The hotel is like it's own little village and takes some time to explore like many small Italian towns in...
We spent my birthday and New Years eve 2019/20 and could not recommend Borgo Egnazia more. The hotel is like it's own little village and takes some time to explore like many small Italian towns in the area. The experience itself was nothing less than 6 star. The rooms and service were impeccable. On my birthday 30th December we enjoyed a 'cave' dinner which although expensive was amazing. We had local food and amazing hospitality. I found the New Years even dinner a little too long and got very hungry before some of the food came out but that is the Italian way of eating. I will look to return in warmer weather since I think this has so much more to offer than what I could see in 4 days. I also like the secure feeling of the property and the concierge service for the car. The check in process was also smooth along with the whole experience. Breakfast was vast although the breakfast room did get busy around 9.30am. The attention to detail is second to none.
View full review