Just a five minute walk from the restaurants of Savelletri di Fasano
Fantastic position right on the sea front
Set only 100 metres from the shops and restaurants of Savelletri's main street, the hotel La Sorgente boasts a prime location on the seafront. The Mediterranean's sea breeze can be taken full advantage of by guests of the hotel, with the large swimming pool being positioned close to the water's edge. A brilliant facet of the property is the private section of bathing platform, fully equipped with sunbeds and umbrellas that has direct access into the sea.

Guestrooms here are decorated in a clean, modern style with comfortable furnishings and a view to either the hillside or sea. An on-site restaurant offers typical Apulian cuisine but those wishing to eat out will appreciate the hotel's superb location, just a five-minute walk from the centre of Savelletri di Fasano. This small fishing village boasts a number of fantastic seafood restaurants, where you can enjoy a leisurely dinner and right next to the sea.
The hotel has 43 rooms (official rating 4 star). Child prices apply to ages 2-12

Minimum stay of 2 nights (7 nights between 25 Jul - 30 Aug 20).
Facilities
Bars & Restaurants
Restaurant & Bar
Open every day for breakfast, lunch and dinner, this restaurant offers Mediterranean cuisine created using high-quality, local ingredients.
Beach & Pools
Swimming Pool
Set on the edge of the property, the lovely swimming pool creates a completely peaceful feeling and offers superb sea views.
Wifi & Parking
Wifi & Parking
Stay connected with the wifi available free of charge.
Free on-site parking.
About the location
Holidays in Savelletri di Fasano, a tiny village which is officially part of the town of Fasano, give you the tranquillity of a tiny village with the larger town of Fasano nearby. The village is around 7km from the main town and sits on the coast of the Puglia region on the 'heel' of Italy. Savelletri di Fasano is the ideal place for getting away from it all. There are plenty of beach and sea activities to indulge in, including diving and snorkelling, but the otherwise slow pace of life makes this the ideal place for couples and those seeking to relax. An evening stroll along the idyllic harbour front is the perfect way to round off a warm summer day, while the village's restaurants offer delicious local food combined with charming sea views.

Less than 15 minutes' travel away is the town of Fasano itself, which is an altogether livelier place. Families will enjoy the town's many attractions, such as the Fasano Zoo and Safari Park. There are ruins dating from Roman times at Scavi D'Egnazia, as well as plenty of other historical sights worth visiting. If you want to travel further afield, the larger cities of Bari and Brindisi are roughly equidistant from Savelletri di Fasano along the coast.

Transfer time
The hotel is 1 hour from Bari airport and 45 minutes from Brindisi airport. We recommend hiring a car in your destination. Simply call us once you've completed your booking and we will talk you through the options.
Twin/Double Room Hill View
Max 3 adults
The Twin or Double Hill View Rooms are located at the rear of the hotel with views over the hills of Fasano. Similar in design to the Sea View Rooms they are comfortable with bright and modern furnishings.
20m²
Twin/Double Room Sea View
Max 3 adults
Twin or Double Rooms have wonderful views of the Adriatic Sea. The colour scheme used in the room mirrors that of the turquoise waters that sit on the hotel's doorstep.
20m²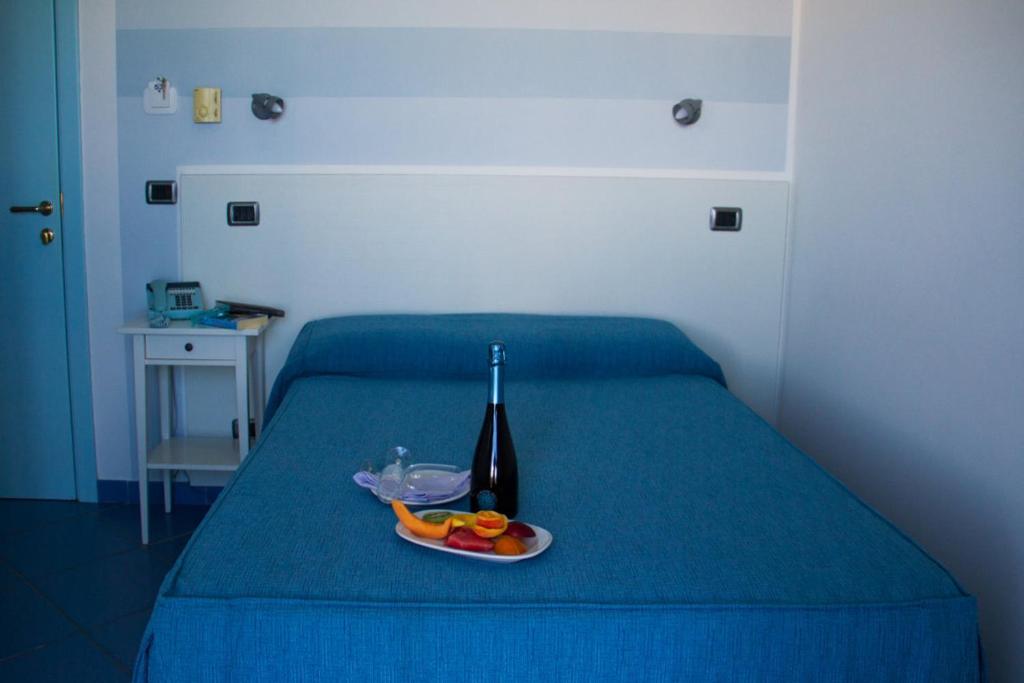 Single Room
Max 1 adult
Single Rooms have all the same comforts as the other room categories but the only difference being, is that they are neatly put into a slightly smaller space. These rooms are available with a hill view.
14m²
Early Booking Discount
10% Early booking discount for stays completed between 01 April - 30 October 2022 booked by 28 February 2022.

Based on 221 traveller reviews

72% of travellers recommended this hotel
Travellers Ratings
What to expect
Reviews
"
Lovely hotel in a lovely location
461clarej, Farnham, United Kingdom
Sep 06 2020
We have just ended our 8 night stay at La Sorgente in the charming seaside town of Savelletri and it was a 10 out of 10. Staff were super friendly and helpful, from reception to restaurant to the...
We have just ended our 8 night stay at La Sorgente in the charming seaside town of Savelletri and it was a 10 out of 10. Staff were super friendly and helpful, from reception to restaurant to the lifeguards attending the gorgeous pool (overlooking the sea) and nothing too much trouble. Breakfasts had all you needed, even bacon and eggs which my husband took full advantage of, and in the evening the restaurant had tables set out on a raised terrace overlooking the sea making a romantic setting. Whilst we dined in the town???s many restaurants we did dine at the restaurant one evening with excellent service and a lovely dinner at a very reasonable cost. We chose a downstairs sea view room as it had a large terrace (blissfully shaded in full heat of sun) and little gate on to the pool so we could pop in and out at will, well worth the extra 40Euro a night. Yes the room is fairly compact but it had everything you needed and was kept meticulously clean. A lovely hotel, minutes walking from the town, a fab pool, great food and charming staff, what more do you need?!
View full review
"
Very Pleasant Hotel In Lovely Harbour Location
mikepdews, Tonbridge, Kent
Oct 14 2019
Ok this was a bit of a tricky hotel to rate as part of me doesn't think it warrants 5 stars because there were a couple of minor issues. However, 4 stars seems a little under cooked. Can Trip Advisor...
Ok this was a bit of a tricky hotel to rate as part of me doesn't think it warrants 5 stars because there were a couple of minor issues. However, 4 stars seems a little under cooked. Can Trip Advisor perhaps introduce 4.5 stars. I've decided to give it 5 purely on the basis that we had a fantastic holiday in Puglia and surely that's the main thing. This smallish hotel (less than 50 rooms) is in a little harbour town called Savelletri (between Bari and Brindisi) and the hotel overlooks the sea. There is no beach as such but there is a platform for you to swim in the sea and there is a small cove less than 50 metres from the hotel if you want to sit on a beach. The hotel is spotlessly clean and although the rooms are quite basic we had a lovely terraced balcony, the bed was comfortable and had a good shower (we were in Room 101 but we wouldn't want to confine it!). House keeping was good and all the staff are friendly. There is a nice pool area (pool is salt water and cold) with attentive lifeguards and even waiter service if you fancy a mid-morning cocktail. Breakfast's outside on the terrace were plentiful and enjoyable. We only frequented the hotel restaurant the once and the food was good although it lacked some ambiance in our opinion. Savelletri is a cozy little town with some very good restaurants all dotted around the harbour within a short walk (100 metres or so) from the hotel which is handy after a few Aperol Spritz's. It has some pizzeria's as well if that's your thing and a few bars too (not English and thankfully no Sky Sports). There are some little supermarkets to pick up bread, ham, cheese, cold beers etc and we found them not to be expensive. Please note there is no bank or ATM cash machine in the town at all. Our only minor niggles are that the hotel has a habit of playing some annoying music around the pool which seems to be in on a loop (buy some more CD's) and the Wi-Fi I have to say is pretty dreadful for a hotel that claims to have High Speed Broadband. There is a bus service but alas the girl on reception was working on a timetable that was only available in High Season so that was a little irritating as we went in mid September. We did not hire a car but you may wish to do so as the train station (Fasano) is about a 10 minute drive away (can get to on the bus if you know the right time!). Trains are regular and we got to Lecce, Ostuni, Monopoli and Polignano a Mare easily. We also hired bikes and cycled to Torre Cane another little resort along the coast road (takes about 20 mins on the bikes) which has a nice sandy beach and some great Gelateria's for a cold ice cream. Please be aware that Fasano it's self is a working town and has nothing really worth seeing so don't bother. We had a fantastic time in this un-touristy part of Italy and will be going back next year and hiring a car so that we can get to all the other places we did not get to.
View full review