Country villa resort near to Puglia's 'White City'
Private outdoor pool and covered patio
Traditional Puglian cooking lessons offered
Terra Sessana Country Resort is a quaint rural resort located a couple of miles from the hilltop town of Ostuni in Puglia. Terra Sessana Country Resort gets its name from Latin, which roughly translates as a healthy lifestyle in harmony with the earth. If you prefer to go at a slower pace during your holiday in Ostuni, then this is the place to be, with its romantic and serene atmosphere.

Stay in one of the resort's four villas. All the properties are unique, each delightfully charming with original features, from stone-vaulted ceilings and 19th century paved flooring to stone archways and traditional alcoves. Each villa is isolated from one another, surrounded by lush lawns and ancient olive groves.

All the villas include fully equipped kitchens with dishwashers and washing machines for a comfortable home-from-home experience. All the villas come with complimentary WIFI and televisions.

A highlight of your stay at Terra Sessana Country Resort is that all the villas boast their own private outdoor swimming pool so you can cool off from the hot Puglian sun and delight in the views of the picturesque valley, Valle d'Itria.

Experience candlelit al fresco dinners on your own secluded covered patio, which feature outdoor dining furniture and outdoor barbecues.

Casa Blu is a five bedroom air conditioned villa that accommodates up to 10 people, with a kitchen, dining room with a fireplace, two lounges, five double bedrooms, a furnished balcony and roof terrace, and five bathrooms, including three en suite bathrooms. This is an ideal place to bring all the family together, with not just one but two covered furnished patios, outdoor lounge area and bar. There's also a spa room that features a relaxing jacuzzi and Turkish bath.

Villa is a three bedroom air conditioned villa that accommodates up to five people, with a living room, a kitchen, two double bedrooms, one single bedroom, a single WC, and two bathrooms (one en suite and a main bathroom featuring a bathtub. The Villa has a separate laundry room for its washing machine. In addition to the barbecue, there's a stone oven at this property where you can cook your own wood-fired pizzas.

Trulli is a delightful 19 century two bedroom trullo, which boasts the characteristic conical roof typical of this region and features two double bedrooms, a living room, kitchen and two double bathrooms.

Lamia is a one bedroom air conditioned villa accommodating up to four people, but is best used as a couples' retreat where you can relax and rejuvenate in peace. This property has one double bedroom, a bathroom with a bathtub, and an open plan kitchen-lounge area that includes two sofa-beds for extra guests.

If you are looking for hands-on cultural experiences then the local owners will be happy to suggest interesting activities, including learning the secrets of Italian cuisine with hands-on pasta and jam making sessions during your stay at Terra Sessana Country Resort.
Facilities
Ostuni
Ostuni is a small town perched on a steep hilltop that towers over the plains of Puglia. Ostuni is located an hour and 20 minute drive from Bari Karol Wojtyla International Airport, and once you reach the town you'll feel like you've been lifted back to a simpler age.

Ostuni is most known for its whitewashed buildings within its Old Town (centro storico), which is why it's known locally as Puglia's 'White City'. You'll quickly find yourself immersed in the beauty of the town's trulli stone buildings, which feature unique tapered conical roofs, and offer wonderful backdrops for capturing moments from your holiday.

The streets are steep and uneven but are well worth a walk as you take in the grand duomo, a 15th Roman Catholic cathedral featuring a 24-pane rose window, and discover tucked away courtyards offering an inviting café culture.

You will notice that this is a tranquil town with an authentic, humble atmosphere that spills from quaint restaurants. In the valleys enveloping Ostuni you will find tumbling vineyards where you can head off on delightful wine tours and enjoy the full-bodied, spicy notes of the Ottavianelli grape.You're also close to Puglia's pretty coast with its welcoming beaches, ensuring you can enjoy both a coastal and rural holiday in Ostuni.

Just a few miles from Ostuni you will find Terra Sessana Country Resort, which is an ideal base for exploring this delightful region. Don't forget to try Ostuni's local pride, orecchiette, a small, ear-shaped pasta that is usually served in a rich vegetable-based sauce.
Nearest airport
Lamia-1 Bedrom Villa
Max 4 adults
1 double bedroom
2 sofa bed
The name "lamia" refers to a traditional stone building in the Puglia region. The Lamia at Terra Sessana has been converted into a refined one-bedroom villa, with original stone-vaulted ceilings and 19th century paved flooring.
50 m²
Trullo-2 bedroom villa
Max 4 adults
2 double bedroom

2 bathrooms

Set in its own private garden, this delightful 19 century trullo house has been charmingly restored to offer comfort and tranquillity. All the original architectural features have been preserved, including characteristic stone archways and traditional alcoves. The house consists of two double bedrooms with en suite shower rooms, lounge/ dining room and a fully-equipped kitchen with dish-washer and washing machine. From the garden with private swimming pool guests can enjoy a lovely view of the surrounding Puglian countryside.
60 m²
Villa-3 bedroom
Max 5 adults
2 double bedroom
1 single bedroom

The spacious villa is furnished with every comfort. It consists of a large, fully-equipped kitchen with dish-washer, two double bedrooms, one single bedroom, two bathrooms, one en suite and the other with tub, and a living room located in a beautiful veranda with air conditioning. The veranda is spacious and bright and leads directly to the big gardens with the private swimming pool. Outside the villa has a laundry room with washing machine and a large patio with barbecue and stone oven suitable for cooking pizzas and focaccia.
80 m²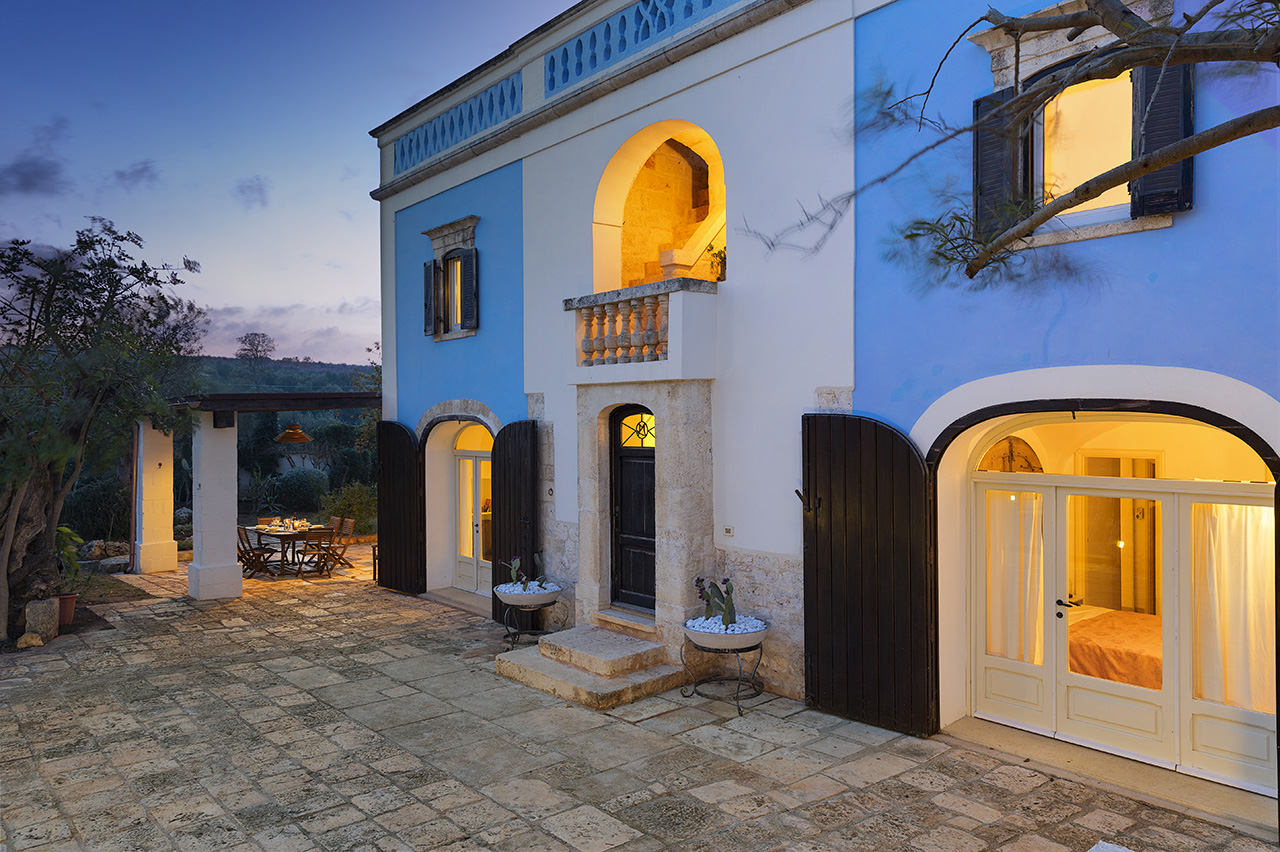 Casa Blu-5 bedroom villa
Max 10 adults
5 Double bedrooms (3 convertible into twin bedrooms)
5 Bathrooms (3 en-suite)




Dating from the eighteenth century, the "Blue House" was once the holiday home of a rich family from Ostuni. It has been carefully restored preserving it's original appearance, using traditional materials. Guests will find egant and comfortable furnishings, charming vaulted stone ceilings, ancient floors and antique furniture. The exclusive use of the pool, relaxation areas and a spa with turkish bath make it the perfect destination for a relaxing and charming holiday in the Puglian countryside.

The Casa Blu is 250 square meters split on two levels. It boasts 5 bedrooms, 5 bathrooms (3 of which are en-suite), dining room with fireplace, fully equipped kitchen, large living room, sitting room with fireplace. Spa and turkish bath, a romantic stone balcony which leads onto a spacious terrace with a wonderful view of the valley. There are two patio areas with bar, tables, lounge area and poolside relaxation.
Ideal for families or groups of friends, it can sleep up to 10 people with the possibility to add extra beds if required.
200 m²