Access to 5 swimming pools and the white sandy beach
Family friendly bungalows surrounded by palm trees
The Hotel Bouganville is beautifully concealed amongst lush hedgerows, tall palm trees and tropical flowers, giving guests a feeling of space and privacy. Hotel Bouganville nestles between a long soft white-sand beach and glorious countryside, it is a perfect location for a luxury family holiday. Children and teenagers have every need catered for, from the popular Mario's Village and Laguna pool in Children's Wonderland to active pursuits at Leisureland, they even have their very own dedicated children's restaurant.

Designed in a typical Sardinian style, the elegant and spacious bungalows are designed to suit families and couples alike. All have a television with satellite channels, minibar, hairdryer, safe and individually controlled air conditioning and heating system.

An extensive buffet breakfast can be enjoyed on the terrace surrounding the Oasis pool or room service is available for continental breakfast (payable locally) and the dinner options are endless (some supplements may apply). Guests have access to three fresh water swimming pools at the Oasis and two fresh water pools with water slides at Baia delle Palme, as well as the white sandy beach.

Hotel Bouganville is a haven for families with an ideal, tranquil location.

Forte Village Resort benefits from a wide range of facilities shared between guests staying at all of the hotels.
The hotel has 122 rooms (official rating 4 star). Child prices apply to ages 2-12 years. Minimum stay 3 nights, 7 nights 18 Jul-28 Aug ( arrivals only Sat and Sun 25 Jul- 21 Aug)
Facilities
Bars & Restaurants
Terrazza Oasis Restaurant
Included With: Half Board
You will enjoy breakfast at the Terrazza Oasis restaurant.
As Hotel Bouganville is a 4 star hotel, you may choose to dine at the following restaurants without paying any supplements:
Pineta
Forte Grill
Sardinian - reservation required
Brazilian - reservation required

All other restaurants including Belvedere, Forte Gourmet, Trattoria Italiana, and Le Dune carry a supplement of approximately €105 per person per meal (depending on restaurant booked).
About the location
Holidays at the Forte Village Resort offer supreme seaside luxury for couples and families alike. Experience a slice of
Sardinia's
stunning southern coastline, which boasts fine white sands lapped by the Mediterranean Sea. Established in 1970, the award winning resort is scattered over 55 acres of tropical landscape and pine forest, offering eight four and five star hotels, 13 sumptuous villas and 40 suites.
The resort's crowning glory is its beach, rated as one of the top 25 in the world by Forbes Magazine. Sheltered by mountains, it has a sandy seabed ideal for bathing, snorkelling and a host of other water sports. Back on land, explore the resort's 11 swimming pools, from the Baia delle Palme Aquapark to heated infinity pools. In the evening, dine at one of 21 restaurants in high season which showcase world cuisine and eateries by michelin starred chefs such as Heinz Beck restaurant, winner of 3 Michelin stars and celebrity chefs visit in July and August to host refined gourmet evenings.
While the main draw of Forte Village Resort holidays is pure relaxation, there's plenty of activities to keep you busy. Kids can play at the Children's Wonderland where all the staff have been trained and certified by Worldwide Kids or join the sports programmes, which include a Chelsea Football Academy. Relax with a treatment at the Acquaforte Spa or head to Piazza Luisa for shopping, evening shows and live music.
Transfer time
The hotel is 45 minutes from Cagliari airport. Return private transfers included. To change your transfers or book car hire instead, simply call us once you've completed your booking.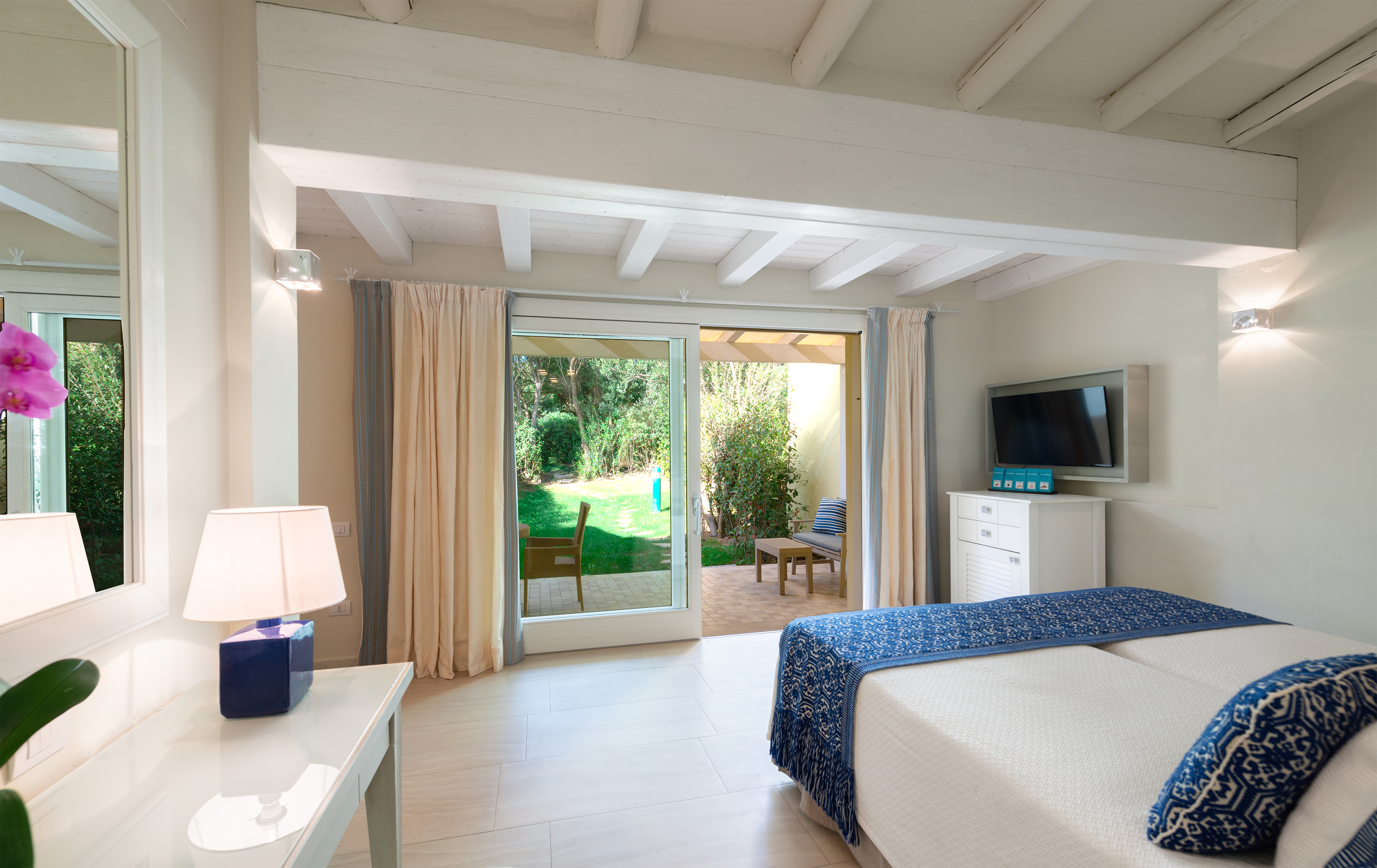 Deluxe Bungalow
Max 2 adults, 1 child
Deluxe Bungalows are new to the hotel and are elegantly decorated. All bungalows feature a large double bedroom with an internal sitting room area and sofabed, and a private patio and garden area. They can sleep two adults and one child.
31m²
Deluxe Family Bungalow
Max 3 adults, 1 cot
Deluxe Family Bungalows have one double bedroom and separate living area which contains a double sofa bed. All bungalows have a patio with a cane table and chairs, and can accommodate up to two adults and two children.
31m²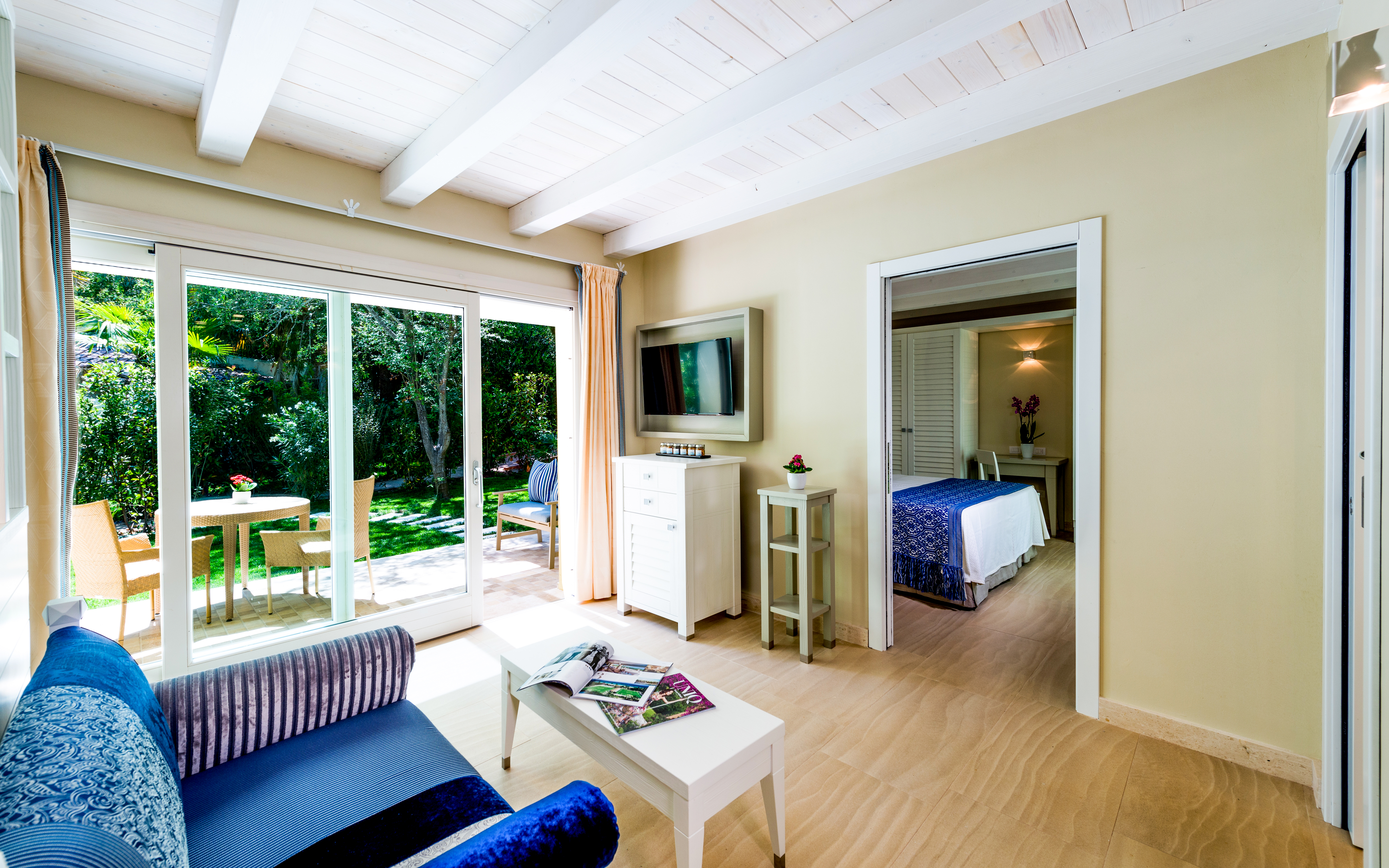 Deluxe Family Plus Bungalow
Max 2 adults, 3 children
Deluxe Family Plus Bungalows are new to the hotel and are elegantly decorated. They consist of two adjoining bedrooms with a connecting door, one room has twin beds or a double bed and an extra bed can be added on request. The second room has two "L shaped" beds suitable for two children. Each bedroom has its own bathroom, a separate patio and a separate entrance. Deluxe Family Plus Bungalows are ideal for families of five.
44m²
Early Booking Discount
15% Early booking discount for stays completed between 09 April - 27 July and 20 August - 04 November 2022 booked by 28 February 2022 . Applicable for a maximum of 2 guests
Honeymoon offer
Honeymooners receive VIP treatment with a bottle of sparkling wine and a basket of fruit, one a la carte meal, one complimentary meal in one of the gourmet restaurants per person per stay, unlimited complimentary entrance to the Acquaforte Spa. Combinable with Early booking promotion . Valid all season for stays of minimum 7 nights.
Repeat Guest offer
Repeat guests receive 200€ credit per room per stay to spend on food, beverages and Leisure land activities only. Valid for holidays of 7 nights or more. Valid for repeat bookings since 2018
Special Family Offer
10% discount and a maximum of 2 children (up to 12 years) stay free of charge when sharing with 2 adults. Only valid for stays completed between 09 April- 22 July and 28 August - 04 November 2022 if booked by 28 February 2022.
This is not combinable with the Early Booking Discount.

Based on 419 traveller reviews
Travellers Ratings
What to expect
Reviews
JB1234SurreyUk, surrey uk
Oct 04 2021
We stayed at Bouganville at Forte Village in early Aug, this is our 3rd time and it keeps getting better and better. Fabulous bungalow rooms and the facilities / restaurants / bars / beach at Forte...
We stayed at Bouganville at Forte Village in early Aug, this is our 3rd time and it keeps getting better and better. Fabulous bungalow rooms and the facilities / restaurants / bars / beach at Forte Village are simply superb. We will return!!
View full review
"
Terrible service lets down property with potential. Poor value for money
KayTravelsAgain, Croydon, United Kingdom
Aug 10 2021
There is so much wrong here it???s hard to know where to start. Overall it???s totally overpriced for the experience in its category. Having stayed in similar or lower priced places this resort is behind...
There is so much wrong here it???s hard to know where to start. Overall it???s totally overpriced for the experience in its category. Having stayed in similar or lower priced places this resort is behind the times starting with a level of service that is shockingly bad. On arrival there is limited information provided, no more info is available in your room and in this price category no resort app. Also terrible WiFi. You can see that the staff are either junior with no clue or have no pride in working here. Examples include rubbish in the gardens, piles of dirty towels for days on end, broken loo seats and taps in the restaurants, all things that members of staff must see and come across but do nothing about. It feels like it???s set up only for Italian guests with many members of staff not able to speak English and therefore often taking a request with no clue what it was about and it disappearing never to be addressed. There is a general feeling that they are doing you a favor and you should be grateful! The property is a large tropical garden with wide avenues and has lots of facilities if you don???t mind paying extra for everything. Even here the prices are eye watering e.g 200??? for a boxing or fencing lesson! Cheaper if you do a 5 day course but surely a more reason able price should be considered to let try something new before signing up for the week. The food makes little allowance for vegetarians and if you are vegan don???t bother coming. As a veggie you will be restricted to one restaurant with the others that are included basically telling you to F off since they can???t be bothered to cater for a veggie member of a family. Buffet Meal times are like being in a school canteen with a general sense of being moved on, not relaxing at all. You can of course pay a supplement in addition to your half board to eat at other places which I???m not opposed to but with zero information on the type of food, sample menus etc. I was not willing to pay between 50-150??? per person more. If you love sports and are happy to spend on what???s available I can see how you would love this place. We have seen lots of families that are willing to pay the insane extras and having a good time. We have also spoken to several other families who would echo this review, many agreeing they would never come back. So what did we do that we enjoyed? The water park is excellent, our boys loved it. The direct access to the beach is great (although expect to be treated like a Second class citizen in terms of loungers depending on your room type!). There is a great little kids club that is included in the price and a large playground that our boys loved playing in. Needless to say we feel ripped off and will not be coming back or recommending this place to anyone.
View full review